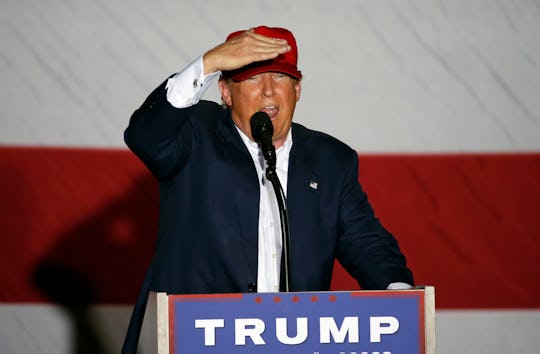 RHONA WISE/AFP/Getty Images
Donald Trump Wins Mega Tuesday, After Forcing Out Rival Marco Rubio
It's Mega Tuesday, and the one thing on most of our minds is the presidential primary. There are five states heading to the polls today leading to big changes in the presidential campaign run that have pretty much been up in the air until now. Who ended up winning big? The reports are in, and, for the most part, the consensus is that Donald Trump has won Mega Tuesday.
A whopping 1,100 delegates on both sides of the political aisle were up for grabs on March 15, all of them spread across the states of North Carolina, Ohio, the crucial swing state of Florida, Missouri, and North Carolina. Some experts have even dubbed the day "the most decisive" one of the presidential primary season.
Within minutes of the polls closing on Tuesday, many experts had already projected that Trump had won Florida on the Republican end, handing rival Marco Rubio a loss and taking home 99 delegates for himself.
Ohio, too, was a major player on Mega Tuesday, with 159 Democratic delegates and 66 Republican delegates available. Of special note: Three of the aforementioned states are "winner-take-all" states, which means that the winner for each party secures all the delegates — a definitive victory for any campaign. The three winner-take-all states voting on Mega Tuesday were Florida, Missouri, and Ohio, which meant that by early Tuesday night, Trump had gained an important lead.
For Republicans, Tuesday marked the beginning of the end for some candidates, mainly John Kasich and Marco Rubio. These two needed to win their home states. (Ohio for Kasich and Florida for Rubio.) They needed to win those states to stay in the race, and although Kasich easily won his home state, Trump won Florida, forcing Rubio to drop out of the campaign altogether, despite having promised a full schedule for the remainder of the week.
As the polls closed in Illinois and Missouri, NBC projected that Illinois was too close to call between Trump and Cruz, while Missouri too was undecided. However, as results began trickling in, it became increasingly clear that Trump would likely take home a solid number of delegates once more, as the front-runner ably swept both the Prairie State and the majority 40 percent in North Carolina as well.
With Rubio being forced out and Trump maintaining a solid lead in the other states, it seemed that, despite his loss in Ohio and his battle with Cruz in Missouri (which will inevitably cause him some grief in the delegate count), Trump was the evening's obvious winner, simply for narrowing the field that much more.