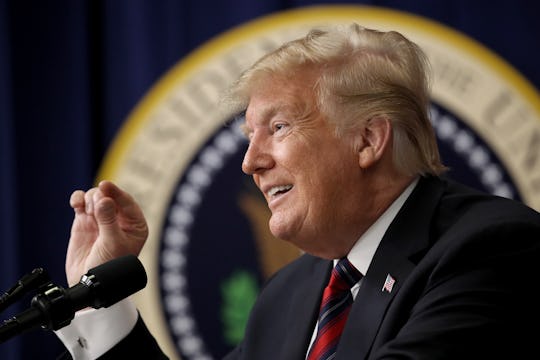 Win McNamee/Getty Images News/Getty Images
Donald Trump's Ancestors Would Have Been Targeted By His New Immigration Plan
President Donald Trump's announcement of his new plan to end birthright citizenship with an executive order is both startling and controversial. If enacted, this plan would go against a Supreme Court ruling regarding the 14th Amendment, with extreme consequences for many. On Twitter, however, some people have pointed out one important fact: President Trump's own ancestors would have been targeted by his new plan to limit immigration, and that's a paradox worth mentioning right now.
Trump announced his plan in an Oct. 30 interview with Axios. Currently, birthright citizenship is upheld by the U.S. Constitution, thanks to the 1898 case of United States v. Wong Kim Ark. It set the precedent for birthright citizenship, which is "the citizenship granted to a person by virtue of the circumstances of [their] birth," as outlined by US Legal. In the case of Wong Kim Ark, according to Cornell Law School, the Supreme Court upheld the 14th Amendment, ruling that "[all] persons born or naturalized in the United States and subject to the jurisdiction thereof, are citizens of the United States."
Trump's new plan has been criticized as unconstitutional, according to Axios. However, the racialized aspects of Trump's anti-immigration policy come to light when you remember: Trump's previous plans would have targeted his own family, and this new plan is no exception.
Trump's own family migrated from Germany and Scotland. According to The History Channel, "None of his grandparents, and only one of his parents, was born in the United States or spoke English as their mother tongue." Trump's mother, Mary MacLeod, was born in Scotland, as reported by The Scottish Sun. Although Trump had a brief period of claiming his father, Fred Trump, was born in Germany, The Guardian reported Fred was born in New York City, in the United States of America.
Additionally, Trump's current wife, Melania Trump, is an immigrant herself. According to CNN, the Slovenian born model moved to New York about 20 years ago, marrying Trump in 2005 and only became a citizen the following year, which made it a decade after arriving in America. Ivana Trump, Trump's first wife, is also an immigrant, from the Czech Republic, according to Quartz.
Users on Twitter quickly began to point out Trump's own position, as someone who has benefited from birthright citizenship.
"The only member of the Trump family (including Trump himself) who isn't the son or daughter of an immigrant is Tiffany," one user wrote. Tiffany is Trump's daughter with actress Marla Maples, as noted by Biography, she is the couple's only child together.
"Is not [Trump] a product of 14th amendment? Son/grandson of immigrants: German on his father's side, and Scottish mother. None of his grandparents, only one of his parents, was born in the United States or spoke English as their mother tongue," another tweeted.
This is not the first time Trump or his administration have proposed new immigration laws that would have prohibited his own family from entering the United States. As outlined by The Washington Post, the Raise Act, which would introduce a point-based system for new applicants to enter the United States, included a focus on those who already spoke English.
Trump's own grandfather, Frierdrich Trump, would likely have not entered the United States under this policy; according to The Washington Post, immigration records indicate that he didn't speak English.
All this highlights, however, is the role that race plays in immigration discussions. As noted by TIME, Trump's anti-immigration policies have targeted people of color, such as the Muslim Ban and his recent deployment of 5,200 troops to counter a "caravan" of migrants at the U.S. southern border.
In May 2018, over 300,000 people lost Temporary Protected Status (TPS). This program allowed "foreign nationals to remain in the U.S. if, while they were in the U.S., something catastrophic happened in their country of origin that prevented their safe return," as outlined by the American Friends Service Committee.
The largest group of TPS recipients are from El Salvador (195,000 people), Honduras (57,000 people), and Haiti (50,000 people), according to Alianza Americas. Recently, a judge temporarily blocked Trump from deporting hundreds of thousands of immigrants, noting the administration may have violated the Equal Protection Clause by basing its decision "on animus against non-white, non-European immigrants", as reported by USA Today.
If these policies were enacted years ago, Trump's plans for immigration would have likely targeted his own family. The unfortunate reality is that, according to TIME, Trump's immigration policies routinely target people of color — the new plan to end birthright citizenship is no exception.