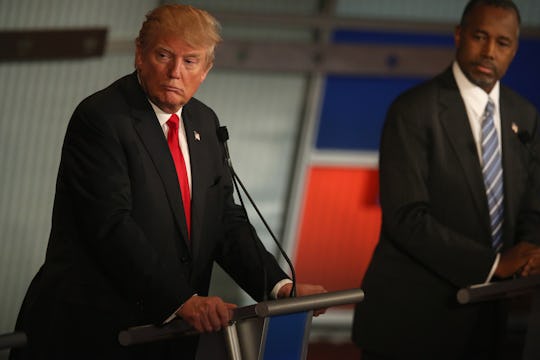 Donald Trump's Closing Statement At The Fourth Republican Debate Was All About Hillary, Of Course
The fourth GOP debate Tuesday night might have been the most tame yet, if only because we're starting to know these candidates and where they like to take things. The candidate who is usually the loudest was silent for the better half of the debate, but then he started to get feisty towards the end. Donald Trump's closing statement was all about Hillary Clinton, a theme many of the candidates returned to throughout the night. He was still sort of tame, but got straight to his point: Hillary Clinton cannot be president. 
He began his statement by taking a jab at Sen. Marco Rubio, who plugged his website at the end of his closing remarks. Trump joked: 
I will tell you that I don't have to give you the name of my website because I am self-funding my own campaign. I am putting up my money.
Then he went onto explain that he wants to do something "special" for America. He said it over and over again throughout his short closing, like he wanted to send us flowers or champagne. Here are his closing remarks in full: 
Over the years I've created tens of thousands of jobs at a great company. It's a company I am very proud of... And I will tell you  I don't have to give you a website because I am self- funding my own campaign. I am putting up my own money. I want to do something really special, I want t0 make our country greater than it's ever bee.  I think we have that potential. We cannot lose this election, we can not let Hillary Clinton, who was the worst Secretary of State in the history of our country, win this election. We will fight, we will win and we truly will make this even more special. We have to make it better than ever before, and, I tell you, the United States can actually be better than ever before.
After the temper tantrum that the candidates threw at the last debate alleging that the moderators were only interested in skewering the candidates, not in their policies and positions — Ted Cruz's outburst led the RNC to suspend all dealings with CNBC for the remainder of the primary — The Donald didn't exactly clarify any of his plans and policies. In fact, all night it was a lot of just more of the same. 
And what does "special" mean anyway? Trump was pretty tame tonight, for Trump. But that doesn't mean he got serious or all that specific about how to "make America great again." It might worth it to shake things up a little for the next debate and give us some real policy, because this Donald Show is starting to get a little old. 
Image: Scott Olson/Getty Images News