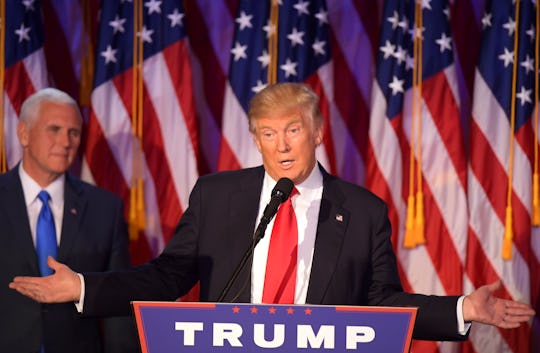 JIM WATSON/AFP/Getty Images
Donald Trump's Comments About Hillary Clinton During His Victory Speech Weren't So Bad
America has elected a new president, and it didn't go quite how people expected. At around 2:30 a.m. ET on Nov. 9, 2016, Republican party nominee Donald Trump was named the newest president-elect. Of course, when addressing his supporters at campaign headquarters, Trump made comments about Hillary Clinton during his victory speech. But unlike most of the comments he hurled at the Democratic nominee throughout the campaign, these weren't too terrible.
Over the past year Trump has said some pretty horrible things about Clinton (as well as women, monorities, immigrants, and a whole hose of people.) Who can forget his infamous "nasty woman" comment during the third presidential debate. But in the late hours of election night, Trump took the high road and offered — what seemed like — sincere comments about his opponent. Standing next to his wife Melania and youngest son Barron, Trump said:
I've just received a call form Secretary Clinton. She congratulated us — it's about us — on our victory. And I congratulated her an her family on a very, very hard fought campaign. I mean, she fought very hard. Hilary has worked very long and very hard over a long period of time and we owe her a major debt of gratitude of service to our country I mean that very sincerely.
Pretty classy for a man who has referred to women as "pigs" and admitted to "grabbing them by the p*ssy," no?
Many people were a bit shocked by Trump's victory speech. In addition to complimenting Clinton, Trump talked about the two parties coming together and proclaimed he "loved this country," despite his campaign to make it great again.
Trump's victory came after a night filled with many "too close to call" moments. When the poll results started coming in, Trump and Clinton traded off victories. But as the night wore on, more and more states turned red on polling maps around the country. It wasn't until USA Today reported Trump winning major swing states like Ohio, North Carolina, Florida, and Pennsylvania that people realized the business tycoon could soon be sitting in the White House. According to The Wall Street Journal, the election was officially called at 2:18 a.m. ET, with Clinton calling to concede not long after. (At the time of publishing, Clinton's team had yet to make a comment on the election results.)
Perhaps Trump's victory shows that the president-elect has taken a turn for the better. Only time will tell.