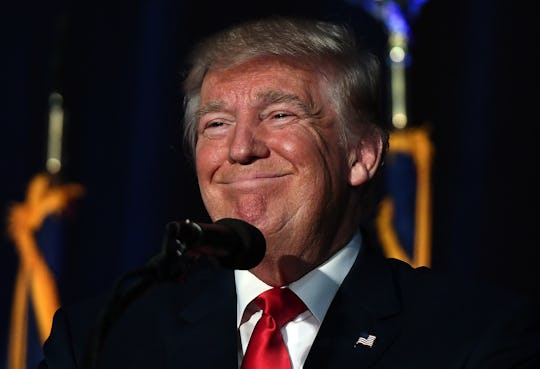 JEWEL SAMAD/AFP/Getty Images
Donald Trump's Comments On Paris Hilton As A 12-Year-Old Are Pretty Disturbing
Yet another disturbing and shocking video of Howard Stern interviewing Donald Trump revealed just another example of the Republican candidate's long history of cringeworthy past remarks about women. What came to surface this time were Trump's comments on Paris Hilton as a 12-year-old. In a 2003 interview, the GOP nominee said he thought Paris Hilton was "beautiful" when she was just a preteen. Romper's request for comment regarding this interview were not answered at the time of publication.
In the interview, according to CNN, Trump and Stern appeared to be playing a version of "Hot or Not," a game to determine the attractiveness of women. Then, Trump mentioned the former reality TV star, who was a friend of his oldest daughter Ivanka's.
"Now, somebody who a lot of people don't give credit to but in actuality is really beautiful is Paris Hilton," Trump said in the 2003 interview, which was first republished by The Huffington Post. "I've known Paris Hilton from the time she's 12, her parents are friends of mine, and the first time I saw her she walked into the room and I said, 'Who the hell is that?'"
Stern commented that Hilton was "hot" and then asked Trump, "Did you wanna bang her?"
"Well, at 12, I wasn't interested," Trump responded, "I've never been into that ... but she was beautiful."
Listen to the full interview below:
Trump continued to talk about Hilton and her perception from the public and his relationship with her parents. Stern then asked if the former star of The Simple Life was "dumb."
"She's dumb like a fox," Trump said.
Stern then asked if the Republican candidate had seen Hilton's infamous sex tape and Trump admitted that he had seen it because his wife, Melania Trump, showed it to him.
"It's probably unfortunate and it made Paris hotter in terms of the world," Trump said when Stern asked what he thought of the tape. "Because the world is so screwed up ... but I think it probably made Paris even better."
Following a week of reminders and revelations of Trump's long history of comments like this, these creepy remarks are unfortunately not all that surprising.
As this interview shows, Trump didn't appear to show any shame that he had seen a sex tape of his daughter's friend, but just earlier this week he accused former Miss Universe Alicia Machado of having a sex tape of her own and called her "disgusting" for it.
Even more, in 2006 in a now infamous interview with The View Trump said that if Ivanka wasn't his daughter, "perhaps I would be dating her."
"I've said that if Ivanka weren't my daughter, perhaps, I would be dating her," Trump said in the interview, which was met with shock and uncomfortable laughter. He then asked, "Is that terrible?"
The View host Joy Behar then asked "Who are you, Woody Allen?"
With Election Day just weeks away, these examples of disturbing comments and bluntly controversial views of women shows voters that Trump has spent a good deal of time and his career objectifying women. All of which does not look good for a presidential candidate.