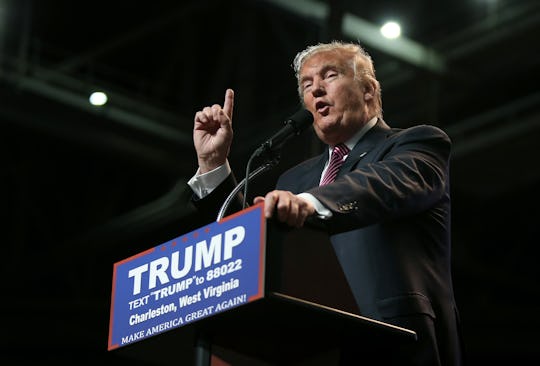 Mark Lyons/Getty Images News/Getty Images
Donald Trump's Comments To Women Are Unacceptable
Those who still (somehow) deny the sexism of presumptive Republican nominee Donald Trump just got a harsh reality check. On Saturday, The New York Times published a blistering article detailing the real estate mogul's history of unsettling behavior toward women. Between the accounts of Trump's allegedly inappropriate workplace behavior, descriptions of an almost-compulsive need to comment on the female form, and an alleged history of making unwelcome advances, the article makes one truth hard to ignore: Donald Trump's comments to women are not okay.
(Romper reached out to Trump's campaign for comment on the Times article but did not hear back.)
Even during the short window of this election cycle, Trump has made a number of public misogynistic remarks toward various women, most notably Fox News anchor Megyn Kelly. (Trump insinuated that the reason behind her tough questioning of him at a debate was that she was on her period.) But the Times decided to investigate Trump's more private behavior, and to do so, reporters interviewed over 50 people who had interacted with Trump over the course of the past four decades. The picture the interviews paint is a complicated, but overall very damning, one.
Yes, Trump hired women to work for him at his real estate company, and promoted them to heights that were rare at the time. But he also allegedly called Barbara Res, his construction executive, "Honey Bunch," and mocked her weight gain by saying, "You like your candy," according to her recollections in the article.
Other disturbing alleged incidents highlighted in the article include those said to have taken place during Trump's involvement with the Miss Universe Organization, which he owns. Former contestants claimed he'd kissing them on the lips by way of introduction, lining them up onstage at rehearsal to personally look them each up and down, and demanding that the women answer his questions about which of their competitors were the most beautiful, allegedly saying in response to one woman's assertion that she liked another because she was sweet, "I don't care if she's sweet. Is she hot?"
As Carrie Prejean, Miss California USA, claimed in her memoir, "Still Standing":
It became clear that the point of the whole exercise was for him to divide the room between girls he personally found attractive and those he did not. Many of the girls found the exercise humiliating. Some of the girls were sobbing backstage after he left, devastated to have failed even before the competition really began to impress "The Donald."
The article also details claims from women alleging that Trump inappropriately groped them, discusses his ex-wife Ivana's one-time claim that he raped her (an assertion that she later called "without merit"), and highlights how a former Miss Universe's weight grappled with anorexia for years after Trump criticized her size. In the article, Trump denies almost all of the incidents, although not the last one. He did push her to lose weight, he told the Times, and he doesn't regret it.
It's somewhat unbelievable that, in a year where it seems like we'll finally get our first female presidential nominee, her presumptive competitor is such a raging misogynist. We're sure to see a lot more sexism come out before the election is done. Here's hoping that we as a nation ultimately choose to condemn it for the backwards, unacceptable nonsense it is.