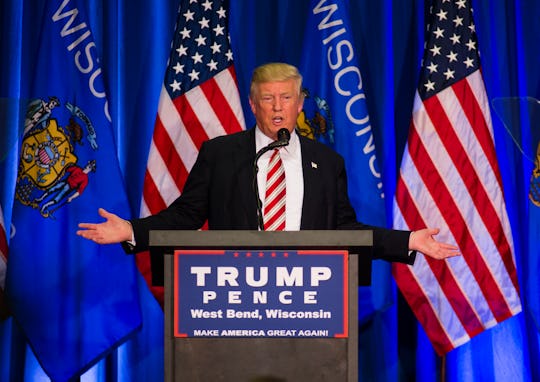 Darren Hauck/Getty Images News/Getty Images
Donald Trump's Facebook Pledge Is A Transparent, Unbelieveable Attempt To Woo Voters
Republican nominee Donald Trump posted a pledge to the American people on his Facebook page last night. In his pledge, the presidential candidate promised to "reject bigotry and hatred and oppression in all its forms." He promised that as President of the United States he would be a champion for equality amongst all American citizens. Equality is certainly a fundamental issue and it's important to elect a president who understands the importance of taking bold strokes to ensure an inclusive, equal society. Donald Trump, despite his attempt to convince us otherwise, is not that candidate. His promise to the American people was a flimsy two paragraphs that does nothing to erase his long history of bigotry. Trump's Facebook pledge is a transparent attempt to woo voters as the election inches closer and nothing more.
August was a difficult month for the Trump campaign, to say the least. From insulting a Gold Star mother to concocting a story about money being airlifted from the United States to Iran, media pundits have been wondering if this was the beginning of the end for his campaign. After a week of one public guffaw after another, Trump's election rival Hillary Clinton has seen a significant boost in the polls. According to a poll conducted by The Washington Post, Clinton leads Trump by a wide 14-point margin in the critical swing state of Virginia. The Post's poll states that Clinton leads Trump 52 percent to 38 percent among registered Virginian votes. Clinton also has a 9-point lead over Trump in another significant swing state.
According to a poll released by Monmouth University, Clinton has support from 48 percent of likely voters in Florida. She is predicted to completely decimate Trump among Hispanic, black, and Asian voters, a demographic that makes up a third of Florida's electorate. Clinton has the support of the majority of female voters in Florida, holding a 10-point margin over her rival. This phenomenon is happening across the country. Reuters has Clinton at six points above Trump, which is the same margin President Obama led Republican nominee Mitt Romney in 2012.
Clinton's wide lead in the polls, especially with minority voters, seems to be putting the Trump campaign on edge. His pledge of equality is an attempt to smooth over his long history of racism, sexism, and overall bigotry. It's hard to take his promise that he will fight to ensure that "every American is treated equally, protected equally, and honored equally" when he has spent the entirety of his campaign promising the exact opposite. Trump has called for a ban on all Muslims entering our country, is fixated on building a wall between the United States and Mexico, and repeatedly uses sexist language when talking about women. It's ridiculous to assume two paragraphs posted on Facebook would convince anybody that he will be our greatest champion, let alone a champion for equality.
As ABC News pointed out, was only yesterday that Trump proposed extreme vetting to screen immigrants entering the country — a process which would include an ideology test to ensure they "share our values and respect our people." The Clinton campaign was quick to call out Trump for the statements he made at a rally in Youngstown, Ohio. Clinton's camp, in response, blasted the move as a "cynical ploy to escape scrutiny of his outrageous proposal to ban an entire religion from our country and no one should fall for it." The hypocrisy of calling for extreme vetting of someone based on their religious beliefs right before claiming to be a champion of equality is almost too ridiculous to believe. This is Donald Trump, though, so maybe it isn't too hard to believe after all.
In many people's opinions — most certainly the ones he mentioned in this week's Facebook pledge — Trump is not the champion America needs. In their minds, he's a bigot with a microphone that will not make America great for an abundance of it's citizens, including muslims, women, and many more. His pledge of equality is nothing more than a last ditch effort to score voters as Clinton takes a significant lead.