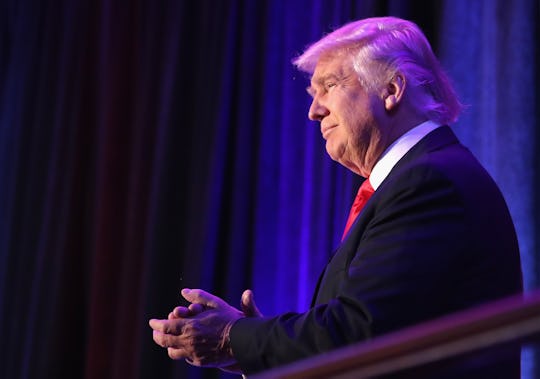 Joe Raedle/Getty Images News/Getty Images
Donald Trump's First Tweet As President-Elect Strikes A Surprising, Gracious Tone
America is waking up as a confused nation on Wednesday. Following a stunning victory by Donald Trump in the electoral college, we have our new president-elect, despite the fact that polls heavily favored former Secretary of State Hillary Clinton prior to the booths closing. And whether or not Trump himself expected the win, he appears to be distancing himself from the huge and tremendous rhetoric that dominated much of his campaign. At least, if you count his victory speech Wednesday morning, and Trump's first tweet as president-elect.
Just hours after Trump's victory speech recognized his win in front of supporters in New York City, the president-elect's Twitter struck the same tone as his surprisingly subdued address. Speaking on Wednesday morning, he told his voters:
Now it's time for America to bind the wounds of division; have to get together. To all Republicans and Democrats and independents across this nation, I say it is time for us to come together as one united people. It's time. I pledge to every citizen of our land that I will be president for all Americans, and this is so important to me.
He even followed up that sentiment with a call to those who opposed him to provide him "guidance" so "we can work together and unify our great country." His first tweet since the announcement of his win seemed to continue that sentiment.
Though it's a preferable tone from the president-elect — one who had previously taken to his Twitter account to send off a series of 140-character diatribes that were as sexist as they were xenophobic, it still was a confusing one for many Americans, who still seem to have plenty to scratch their head about after Tuesday.
Indeed, prior to Wednesday morning, Trump has not quite been kind to all "forgotten man and women." Just see the Access Hollywood tape, his plans for a wall in Mexico, and his treatment of Muslims. Which is why his call to "come together as united people" is so confusing — Trump hardly seemed in support of uniting all while stumping for commander-in-chief. Was it a rare show of grace? Or an indication of a new attitude to come?
Trump's opponent, on the other hand, still has yet to respond to the results publicly after conceding the election to Trump via phone call. Choosing not to speak publicly to supporters immediately following her concession Wednesday morning, Clinton has remained quiet, even on Twitter, where her last tweet seemed to hint at defeat prior to the announcement of results.
What does this all mean for our nation, which proved during a difficult 2016 that we still have so much healing to do? Perhaps Trump, the victor, looks different from Trump, the candidate — perhaps dirty politics and barbs shut down with the polls, and we truly are ready to heal. But, then again, knowing Trump, we are just 140 characters away from more controversy, more anger, and more division.