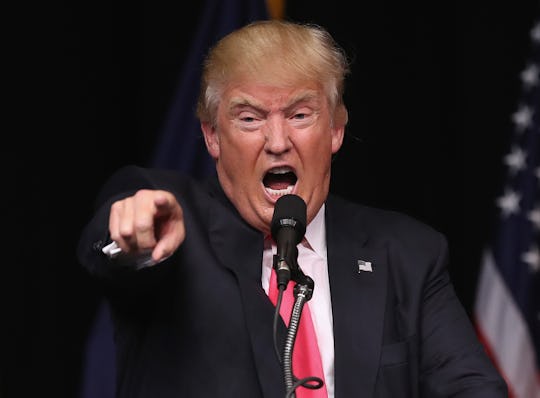 John Moore/Getty Images News/Getty Images
Donald Trump's Latest Media Attack Is Completely Out Of Line
Just when you thought Donald Trump couldn't possibly utter or tweet one more asinine comment, the GOP nominee has struck again. The target on Monday morning: The hosts of MSNBC's Morning Joe, Mika Brzezinski and Joe Scarborough. Trump's latest media attack took a jab at both of the network's weekday morning hosts, calling them "two clowns,", before turning misogynistic remarks on Brzezinski, accusing her as well of being "off the wall" and "a neurotic and not very bright mess." This latest rant surely hasn't been the only time the Republican presidential nominee has attacked the media, but as the 2016 election inches closer it should be acknowledged that Trump's highly personal, sexist attacks and threats on the media are completely out of line.
MSNBC's Morning Joe had been of Trump's favorite places to campaign during the primaries, but that evidently isn't the case anymore. Trump laid into the hosts on Twitter after they had been critical of him during the first hour and 20 minutes of the morning show.
"Tried watching low-rated @Morning_Joe this morning, unwatchable! @morningmika is off the wall, a neurotic and not very bright mess!" Trump tweeted on Monday morning, less than a day after the Trump campaign claimed that he doesn't attack people personally, as Politico pointed out.
Minutes later he fired off another tweet, implying he would retaliate in some way and "tell the real story" of Scarborough. He then insinuated Brzezinski was "his very insecure long-time girlfriend."
Scarborough clearly didn't let Trump's tweets get to him too much and offered a response on Twitter. He thanked viewers for tuning in and defended his longtime co-host:
Trump has not had a friendly relationship with the media and it's clear he doesn't plan on reconciling any time soon. Instead, he may very well continue to add fuel to the fire until journalists write and report the favorable words Trump wants to hear. But his brutally unwarranted, incoherent, and sexist attacks on intelligent women, such as Democratic presidential nominee Hillary Clinton or Fox News' Megyn Kelly, don't exactly produce positive press in his name.
Politics and elections are ruthless. Sure, these tantrums may sadly define the man that Trump supporters have come to worship, but every inappropriate and unnecessary attack on the media is not only out of line, it's childish.
What's more, Trump has repeatedly called reporters "very bad people" and has even started blaming the "liberal" media for falling poll numbers. (Again, groundless and untrue.)
The GOP nominee may need to come to terms with the fact that media can't ignore foolish statements, unfounded statistics, or any ridiculous comment he scribbles or spews. Unfortunately for Trump, that coverage is not always going to be pro-Trump from every news outlet, all the time — no matter how hard he wishes.