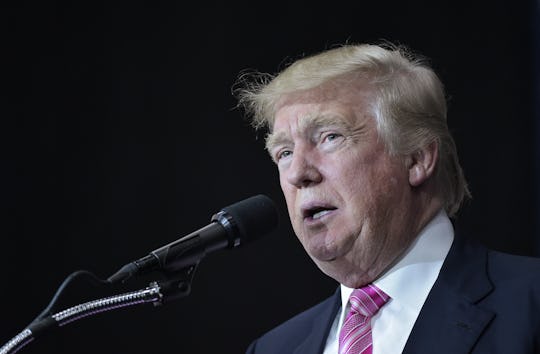 MANDEL NGAN/AFP/Getty Images
Donald Trump's Live Tweets Of The Vice Presidential Debate Show He's Not Pulling Punches
In the days leading up to the vice presidential debate, pundits frequently used one word to sum up their expectations: boring. But just hours before the two prospective VPs were set to step onstage, Republican presidential nominee Donald Trump decided to shake it up by announcing his plans to live tweet the event. Now, Donald Trump's live tweets from the vice presidential debate are already controversial.
Moderated by CBSN anchor Elaine Quijano, the vice presidential debate in Farmville, Virginia started at 9 p.m., according to CBS News. Though the debate lasts for 90 minutes, the candidates only get to spend 10 minutes on each topic. Since it's the only time Democratic vice presidential nominee Tim Kaine and Republican vice presidential nominee Mike Pence will go head-to-head, every moment of talk time counts. But tonight, they're sharing the spotlight with Trump: surprising news given the news cycle this past week. After Democratic presidential nominee Hillary Clinton criticized the former Miss Universe pageant owner for allegedly disparaging 1996 winner Alicia Machado's appearance, Trump took to Twitter around 3 a.m. Friday to post a series of tweets about it, the Washington Post reported. One Trump tweet about Machado asked, "Did Crooked Hillary help disgusting (check out sex tape and past) Alicia M become a U.S. citizen so she could use her in the debate?", according to People.
Given criticism of Trump's behavior on social media in recent days, it's likely that Tuesday night's tweets will attract a lot of attention. After Trump announced his plans for the night, the news quickly went viral. Now, Trump's tweets are already sparking conversation:
Before the debate began, Trump was already tweeting:
And then, the country buckled up for the sure-to-be interesting hour and a half ahead:
First, Kaine and Pence made an entrance.
Trump appeared to respond to a tweet from Fox News anchor Megyn Kelly.
He opted to share the opinions of other Twitter users as the discussion began:
After the candidates discussed Iraq, Trump retweeted Washington Post columnist Josh Rogin:
Trump posted a graphic from Pence's account comparing the two vice presidential candidates:
He shared the thoughts of another supporter condemning Kaine:
Trump retweeted a graphic from the Official Team Trump Twitter account accusing Kaine of having "a pay-to-play problem:"
During the first half hour of the debate, Trump focused more on retweeting others than posting his own opinion. He did send a personal tweet out around 9:30 p.m. Eastern Time:
Trump went back to quoting others' tweets:
Kaine spoke about job creation early in the debate, and Trump responded with an infographic:
Clinton's use of the word "deplorables" to describe some of Trump's supporters came up during the debate, so Trump took the opportunity to share a release about it posted on his campaign website:
Then, Trump took another opportunity to reinforce his support of police officers:
At 9:52 p.m. Eastern Time, Trump shared a link to a press release on his website offering a list of comments from the media that suggest Pence came out strong during the debate:
Trump then made a big claim:
Kaine and Pence clashed talking about Iraq. Trump retweeted the GOP:
As the conversation focused in on warfare, Trump tweeted a press release published on his campaign website about policy regarding Syria:
Trump retweeted a Pence quote about strong leadership:
He questioned Kaine's commitment to national security:
Both Kaine and Trump have significant experience in government, and their records play a big role in conversations about their qualifications for the vice presidency. Trump tweeted the link to a press release from his campaign delineating Pence's successes as governor:
Trump linked to another of his campaign's press releases that challenged Kaine's support for defense cuts:
Trump also questioned Clinton in relation to the Iran nuclear deal:
So, as you can see, Trump's "live tweet" night was less of a live tweet and more of a "tweeting links to his website to get his word out there." While there's nothing wrong with it, it is certainly not the tweet storm we were expecting. Perhaps he's just preparing for the next presidential debate, too busy to add emojis.