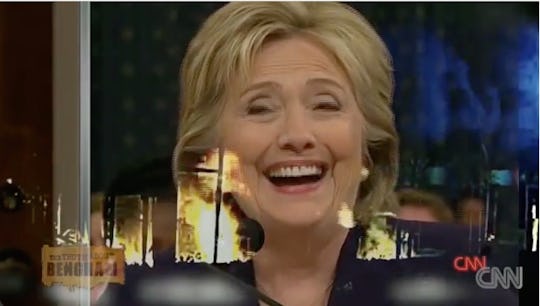 realdonaldtrump/Instagram
Donald Trump's New Campaign Video Shows Hillary "Laughing" At Benghazi, & It's Super Offensive
In case you hadn't heard enough from the anti-refugee crusade waged last week, here's a new political low point to tide you over: Republican presidential nominee Donald Trump's new campaign video features a "laughing" Hillary Clinton, with her face superimposed onto various images of the 2012 attacks on the American diplomatic compounds in Benghazi. The video, which was shared Monday afternoon on Trump's Instagram account, was accompanied by the caption: "Hillary, there is nothing to laugh about." But even more offensive than the witch-like cackling is the glaring implication that Clinton thinks the Benghazi attack was funny, which, of course, could not be further from the truth.
The video clip also includes images of news reports about the investigations into Clinton's deleted email messages. "Hillary has been having a laugh at our expense for years," the video declares in the form of a stark black-and-white caption. Another caption urges, "Don't let the joke be on us!" It seems that Hillary is pulling a fast one on the American public by having been a devoted, proven, steadfast public servant for decades. That's a pretty ironic message coming from a man who is posing as a politician after spending his life as a real estate mogul and television personality.
It's a huge understatement to say that Clinton has already weathered her share of unfair finger-pointing in regards to Benghazi. This graphic shows the unbelievable time and financial costs of the obsessive congressional investigations into Clinton's alleged wrongdoing in both the aftermath of the Benghazi attacks and in her response to security warnings prior to the attacks. While there were 22 congressional hearings on the September 11 terrorist attacks, there were 32 hearings on Benghazi.
Given that Clinton has endured three years of what many have referred to as a modern-day witch hunt, not to mention nearly 11 hours of questioning during October's congressional hearing, isn't it time that everyone — including Trump — put Benghazi behind them rather than taking cheap shots like this one?
Still, I guess it's not surprising that Trump's campaign would insult Clinton by suggesting that she finds terror attacks to be funny. Other low blows from Trump include the time that he said this during an interview with Business Insider: "Hillary Clinton was the worst secretary of State in the history of the United States." And according to The Hill, another deeply inappropriate social media moment from Trump was an April 2015 Tweet that "If Hillary Clinton can't satisfy her husband what makes her think she can satisfy America?" Trump later claimed this was an unapproved Tweet from a staffer.
No word yet from Clinton's camp on what the candidate thought of the ad. But my guess is, come Nov. 2016 Hillary is hoping she'll get the last laugh.
Image: realdonaldtrump/Instagram