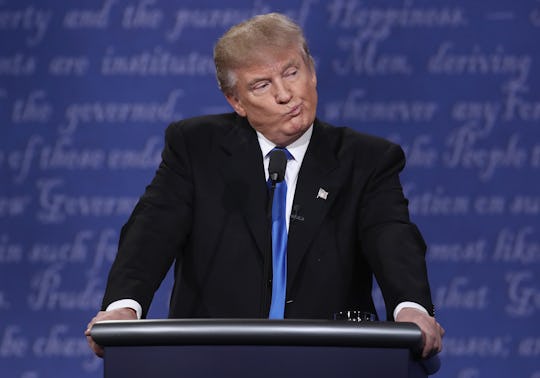 Win McNamee/Getty Images News/Getty Images
Donald Trump's Opening Statement At The First Presidential Debate Needs Fact Checking
On Monday night, Republican presidential nominee Donald Trump and Democratic candidate Hillary Clinton faced off at the first presidential debate of the year in Hempstead, New York. With media predictions that the debate would be one of the most popular programs on television and plenty of drama leading up to the night, all eyes were on the candidates. Trump's opening statement at the first presidential debate was a highly anticipated moment for both his supporters and Clinton's, allowing them to get a feel at Trump's strategy for the debate.
When opening, Trump focused mainly on keeping jobs in the country, saying,
Our jobs are fleeing the country. They're going to Mexico, they're going to many other countries. You look at what China is doing to our country in terms of making our product — they're devaluing their currency, and there's nobody in our government to fight them, and we have a very good fight, and we have a winning fight. Because they're using our country as a piggy bank to rebuild China, and many other countries are doing the same thing.
According to The New York Times, Trump shrugged off traditional methods of debate preparation leading up to Monday night, ignoring specific arguments and policies and instead focusing on large, sweeping themes, such as terrorism, job creation, and border protection. However, in his opening statement, Trump mainly addressed jobs and companies leaving the United States. "We have to stop our jobs from being stolen from us," he said. "We have to stop our companies from leaving the United States and, with it, firing all of their people."
However, according to The Wall Street Journal, many economists believe Trump's tariff plans could bring on a trade war and negatively affect the economy. A few other facts Trump touted during his opening statement on the American economy were also false: According to CNN, Trump's claim that "Ford is leaving" was false, since the company has cut zero American jobs.
The debate between the two candidates seemed even more important than usual after a Washington Post poll showed the two in a dead heat in polls on Saturday evening: Among all registered voters, the candidates tied at 46 percent. (When it came to likely voters, the scales tipped slightly, with Clinton ahead of Trump by two points.) Eight out of 10 of those split voters said they would be tuning into the debate on Monday night, raising the stakes for both candidates.
Polls weren't the only thing to cause drama between candidates before Monday night, however. In the week leading up to the debate, Trump also called for its moderators to resist fact-checking candidates' statements while on Fox & Friends. "I think you have to have somebody that just lets 'em argue it out," he said, according to The Washington Post. "You're debating somebody, and if she makes a mistake, or if I make a mistake, we'll take each other on."
On Saturday, perhaps in an attempt to up the ante even more, Trump also seemingly threatened to invite Bill Clinton's former mistress to attend the debate. "If dopey Mark Cuban of failed Benefactor fame wants to sit in the front row, perhaps I will put Gennifer Flowers right alongside of him!" he tweeted. (On Sunday morning, Trump's campaign manager, Kellyanne Conway, told CNN that Flowers had not been formally invited and was not expected to attend the debate as Trump's guest.)
Expectations were high before the event, and Trump's opening statement certainly kept tensions running high. Whether he keeps up the same attitude throughout the debate or not remains to be seen.