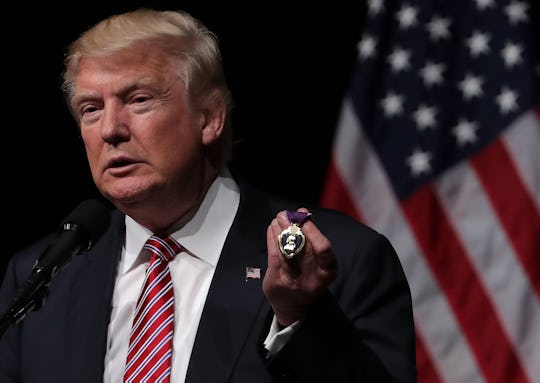 Alex Wong/Getty Images News/Getty Images
Donald Trump's Purple Heart Reaction Shows How Out Of Touch He Is With Military Sacrifices
At a campaign event in Virginia on Tuesday, a veteran gave his Purple Heart medal to Republican presidential nominee Donald Trump. Trump's reaction to the Purple Heart, as reported by CNN, shows just how out-of-touch the candidate is with regards to military service, and the sacrifices that American soldiers make every day. "I always wanted to get the Purple Heart. This was much easier," Trump said. It should be noted that Trump has never served in the military. Despite being quite athletic, he received a medical deferment (and five other deferments), which kept him out of the draft during the Vietnam War, according to The New York Times.
His flippant remark comes at the worst possible time; Trump's come under fire in recent days for feuding with Khizr and Ghazala Khan, parents of Army Capt. Humayun Khan, an American Muslim who died serving his country in Iraq. After Khizr blasted Trump during a speech at the Democratic National Convention last week, saying he'd "sacrificed nothing and no one," Trump fired off a string of mean tweets, as he's wont to do, and later defended himself in an ABC News interview: "I think I've made a lot of sacrifices. I work very, very hard. I've created thousands and thousands of jobs, tens of thousands of jobs, built great structures. I've had tremendous success. I think I've done a lot."
"Those are sacrifices?" responded George Stephanopoulos. Khizr Khan famously offered to lend Trump his copy of the United States Constitution, and now I'm wondering whether he should have offered to lend him a dictionary, as well. And let's not forget what he said about former prisoner of war and Arizona Sen. John McCain: "He's not a war hero. He was a war hero because he was captured. I like people who weren't captured." McCain, according to Politico, spent over five years being tortured in a North Vietnamese prison. According to Trump, that's not a sacrifice, but building a casino is.
A Purple Heart is awarded by the President of the United States to those who were wounded or killed while serving in the U.S. military. John McCain deserved a Purple Heart. Humayun Khan deserved a Purple Heart. But Donald Trump, who not only avoided military service, but goes out of his way to denigrate those who did serve, deserves no such thing. I won't pretend to know what the veteran who gave it to him was thinking, but the way in which Trump accepted it should give him pause. Trump has no gratitude or respect for the sacrifices our servicemen and women make, nor even the slightest concept of sacrifice. He's the last person who should ever receive such a gift.