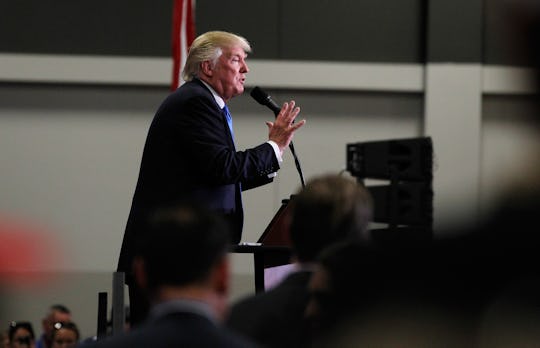 John Sommers II/Getty Images News/Getty Images
Donald Trump's Reaction To Dallas Police Shooting Is Surprising
It's not at all surprising that presumptive nominee Donald Trump responded to the Dallas shootings that killed five police officers. Following the sniper shootings — which took place during protests responding to the murders of Alton Sterling in Louisiana and Philando Castile in Minnesota — multiple Washington officials (including President Barack Obama) came out to discuss the unfolding situation, and the tragedies and injustices it relates to. But what is surprising is the way that Trump responded to the incident. The would-be politician, known for his brash style of rhetoric, responded in a far more demure way than we're used to from the plausible Republican nominee for president.
Last month, Trump was (rightfully) criticized for his tone-deaf response to the terror attack at Orlando's Pulse nightclub, during which a shooter opened fire in the club, killing 49 and wounding dozens more. While the tragedy encouraged most to open a dialogue about gun rights in the U.S., Trump used the Orlando terror attack as an opportunity to boost his agenda, going as far as to actually claim he was receiving messages of congratulations for his stance on Islamic radicalism. Not quite the best way to respond to the deadliest mass shooting in modern U.S. history. As Trump tweeted:
But, after 12 officers (and two civilians) were shot in Dallas by at least two snipers (one suspect is dead, while three are in custody), Trump changed his tone considerably. Rather than furthering his political takes, or taking sides, Trump tweeted prayers to everyone who has suffered in the past 48 hours.
(Update: Since tweeting about the incident, Trump released a more official statement on the shootings, as shown below.)
When it comes to other political responses, Obama took a harder line, calling the shootings "vicious, calculated, despicable," and saying "justice will be done."
Perhaps Trump really does feel sympathy for all of those affected — Sterling's family, Castile's family, the police officers' families — or perhaps, following the embarrassing dust-up surrounding a seemingly anti-Semitic meme directed at Hillary Clinton, Trump is simply being more careful with his 140 characters. (Speaker of the House Paul Ryan dinged him for the tweet earlier this week.) But, then again, considering Trump continues to defend his actions on Twitter, perhaps that's just wishful thinking for the GOP.
Either way, Trump's call for "prayers and condolences" was a step in the right direction for the presumptive candidate, even if the only way to end violence is to truly act.