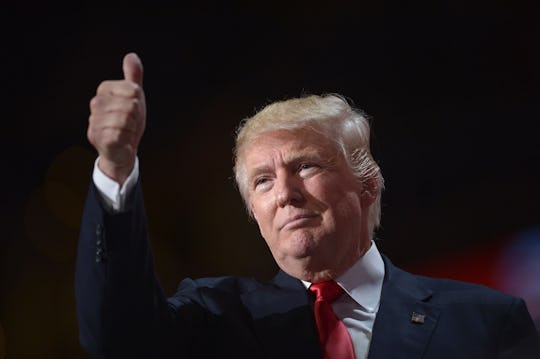 BRENDAN SMIALOWSKI/AFP/Getty Images
Donald Trump's Reaction To Tim Kaine As Clinton's VP Is All About Attacks
Republican presidential nominee Donald Trump always has something to say. So as soon as presumptive Democratic nominee Hillary Clinton announced her vice presidential pick, it was only time before he began sharing his reaction. Donald Trump's reaction to Tim Kaine, on Twitter and in an official statement, are all about Kaine's past and appealing to Bernie Sanders supporters. It's actually pretty strategic. Trump already has a name for him: Corrupt Kaine running alongside Crooked Hillary.
He tweeted on Saturday morning that, "Tim Kaine is, and always has been, owned by the banks. Bernie supporters are outraged, was their last choice. Bernie fought for nothing!"
Trump them continued, as he does, in a bit of a Twitter rant, urging delegates at the Democratic National Convention this week in Philadelphia to put up a fight, by which he means a contested convention (something that Trump barely avoided in Cleveland during the Republican National Convention. He tweeted, "The Bernie Sanders supporters are furious with the choice of Tim Kaine, who represents the opposite of what Bernie stands for. Philly fight?"
In a statement released by his campaign last night, Trump sounded a little more tempered in his opinions about his presumed Democratic opponents.
Trump's spokesperson, Jason Miller, wrote, ""It's only fitting that Hillary Clinton would select an ethically challenged insider like Tim Kaine who's personally benefited from the rigged system." Miller added, "while serving in government, Kaine has taken tens of thousands of dollars in freebies — more than $160,000 in fact —on free vacations, free clothes, and free tickets." Trump's team is referencing a story that Politico reported on earlier this summer in which Kaine took advantage of Virginia's "state's lax gift laws." So taking gifts from donors was totally legal and he disclosed it on his taxes.
It's not the best system, but it was totally legal and Kaine never tried to hide anything. So, "corrupt" isn't exactly the best adjective for his actions. A spokesperson told Politico:
During his eight years as lieutenant governor and governor, Sen. Kaine went beyond the requirements of Virginia law, even publicly disclosing gifts of value beneath the reporting threshold. He's confident that he met both the letter and the spirit of Virginia's ethical standards.
Right now, Trump probably has scores of people looking for more scandals he can tie to the vice presidential candidate to drive home the point that Clinton is as "crooked" as he says she is. But it's not just Kaine that Trump has reacted to since Clinton's announcement. He was still targeting Massachusetts Sen. Elizabeth Warren this morning, too. Trump tweeted, "Pocahontas wanted V.P. slot so badly but wasn't chosen because she has done nothing in the Senate. Also, Crooked Hillary hates her!"
Trump has a lot of opinions about anyone close to the Clinton campaign. Watch out, Tim Kaine — Trump is coming with you.