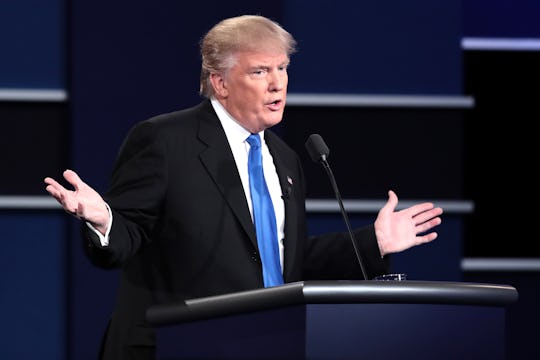 Drew Angerer/Getty Images News/Getty Images
Donald Trump's Response To A Black Lives Matter Debate Question Was A New Low For Him
At Monday night's presidential debate, Republican presidential nominee Donald Trump and Democratic presidential nominee Hillary Clinton faced off on a number of issues. Most notably, the conversation centered around the economy and the future of America. However, it was Trump's callous comments on a Black Lives Matter debate question that showed the true nature of the candidate's grasp of race relations in America right now. When asked about how he plans to heal the racial divide on our country, Trump's approach zeroed in on just how little he understands about our country's failings when it comes to racism, equality, and privilege.
Immediately after making the comment, it was Twitter that, of course, erupted in protest of Trump's comments. Not only do they highlight just how out of touch the candidate is with African American and Hispanic families living in inner cities, but they also illuminate just how unjust and loaded his messaging is. Of course, it's foolish to say that either candidate can wholly understand the plight that marginalized communities face in a racially divided America, but while Clinton vows to use her platform for the betterment of the lives of people of color all throughout America, it's Trump's words that stick out like a sore thumb.
Take, for instance, the comments on Twitter in the immediate aftermath of Trump's inner cities comments. By saying that people living there are living in "hell" and face the threat of getting shot just by walking down the street, Trump generalizes an entire population. Tweets highlight the frustration and disappointment of the people whose livelihoods are constantly spoken for by those who have no real authority to do so:
Given the current racial climate in America at the moment, it's clear that we need a leader who recognizes and is willing to work toward a stronger, more understanding, more unified relationship with people of color in our country. And on Monday night, it was incredibly obvious that Trump may not be that man. It doesn't make Clinton a picture-perfect candidate by any means, but when you have a candidate who generalizes an entire population and truly believes that walking down an inner-city street means you'll get "shot" or that you're somehow living in "hell," it's important to turn to the voices around you who can speak to that experience and tell you it's dead wrong.
And on Monday night, those voices spoke loud — and incredibly clear.