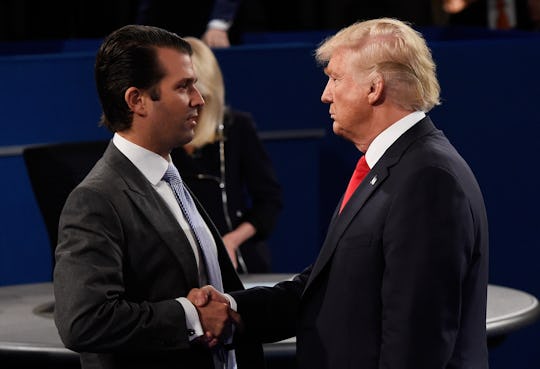 Pool/Getty Images News/Getty Images
POTUS' Response To Donald Trump Jr.'s Emails Will Be Important
Just weeks after President Donald Trump secured the Republican presidential nomination, his eldest son reportedly had a meeting with a Russian lawyer who was said to have damning information about his Democratic opponent, Hillary Clinton, according to an article published in The New York Times on Tuesday. In response, Donald Trump Jr. tweeted out an email chain that led up to the reported meeting last summer. There are indeed many opinions about what's said in the emails — with some saying he may have crossed a line of legality — but what does his father have to say about all of this? While he has yet to weigh in on the matter, President Trump's response to Donald Trump Jr.'s emails will definitely be important to watch out for. Trump Jr.'s representatives have not responded to Romper's request for comment regarding whether he could face charges for collusion, but as of now Trump Jr. has not been charged with any crimes.
As with any other presidential family, there are always eyes on the Trumps. And The New York Times report adds a whole new layer to that scrutiny. While Trump Jr. issued a statement on Twitter that he released the emails to be "totally transparent," many are concerned why he even took the meeting in the first place.
The Washington Post reported that Trump Jr. may have "crossed the legal line on collusion with Russia" by meeting with Natalia Veselnitskaya, the Russian attorney, who claimed to have damaging information about Clinton "after getting an email that the Russian government was trying to help his father win the election."
While Trump has yet to hold a press conference or pen his response in a tweet, according to CNN White House reporter Kaitlan Collins, the president said his "son is a high quality person and I applaud his transparency" following the release of the emails.
That could be it. That could be all we hear from President Trump about this story. But that's hard to accept, considering that his son could find himself in some very hot water, very soon. Is that perhaps why he hasn't made a longer public statement yet? Is he letting the Trump administration do some damage control before chimes in more?
Whatever the reason is, it is odd that he's been virtually silent on social media since a little after 5 a.m. Eastern Time on Tuesday. This is his most recent tweet:
Typically, President Trump is quick to defend his administration and, in particular, his eldest daughter, Ivanka Trump. In fact, just yesterday, he jumped to her defense — and his — after she briefly sat in for him during a session at the G20 summit in Hamburg, prompting outrage about the Trump family's unorthodox involvement in the White House.
"When I left Conference Room for short meetings with Japan and other countries, I asked Ivanka to hold seat. Very standard. Angela M agrees!" Trump tweeted on Monday. "If Chelsea Clinton were asked to hold the seat for her mother, as her mother gave our country away, the Fake News would say CHELSEA FOR PRES!"
Comparing which scenario is more severe, you'd think the POTUS would make sure he's heard from the rooftops on this matter, too. But it's not total radio silence in the White House: Vice President Mike Pence reportedly issued a statement regarding the emails and Trump Jr.'s meeting with a Russian lawyer, via his press secretary, Marc Lotter.
"The vice president is working every day to advance the president's agenda," Lotter said in a statement, according to NBC News. "He was not aware of the meeting. He is also not focused on stories about the campaign — especially those pertaining to the time before he joined the campaign."
While we await the inevitable tweets regarding Trump Jr.'s meeting with an official tied to Russia, it's important to keep an eye out for the president's response. Because even though he's not talking about it right now, this Russia scandal isn't going anywhere.