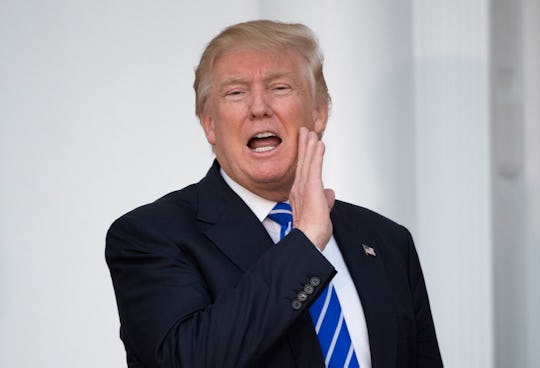 DON EMMERT/AFP/Getty Images
Donald Trump's Response To Jill Stein's Recount Blasts Green Party's Efforts As A "Scam"
Ever since Election Day closed out and Donald Trump was elected president, millions of dollars have been raised around the nation to have votes in a few key states counted again. Green Party candidate Jill Stein kicked off the efforts and Wisconsin — an influential swing state — agreed to have the state's votes recounted. In an effort to get more states on board, Hillary Clinton's campaign announced on Saturday that it will help push for recounts in other key states. But as at least one state's recount is underway, President-elect Trump dismissed the recount, calling it "ridiculous" and blasting Stein's efforts as a "scam."
According to CNN, Trump said in a statement, "The people have spoken and the election is over, and as Hillary Clinton herself said on election night, in addition to her conceding by congratulating me, 'We must accept this result and then look to the future.'"
Statewide recounts involve a lot of people and cost a pretty penny to do — between $6-7 million — but Stein's fundraising efforts have brought in nearly $5 million through online donations in just a few days. So with a lot of money and a lot of attention on Stein's efforts, Trump also asserted that the donation money that the Green Party candidate raised won't actually be spent on a recount.
"This recount is just a way for Jill Stein, who received less than one percent of the vote overall and wasn't even on the ballot in many states, to fill her coffers with money, most of which she will never even spend on this ridiculous recount," Trump said, according to CNN.
He continued, "This is a scam by the Green Party for an election that has already been conceded, and the results of this election should be respected instead of being challenged and abused, which is exactly what Jill Stein is doing."
Stein shot back at Trump's accusations and said the all of the money would be deposited into a "dedicated and segregated account."
"For his information, this is all going into a dedicated and segregated account so that it can only be spent on the recount," Stein said in an interview with CNN's Pamela Brown on Newsroom."He may be creating his own facts here as he's been known to do some times in the past. He himself said it was rigged election unless he won it."
The $5 million of the $7 million goal that Stein has raised already is reportedly enough to cover the costs of recounts in two key states — Wisconsin and Pennsylvania. A recount in Wisconsin has already been filed and is underway, so until the funds have been appropriately spent and the state's votes have been counted again, Americans will have to wait and see if the voting system was truly rigged against any candidate.