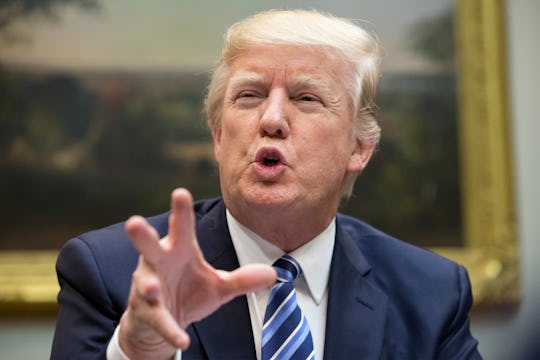 Pool/Getty Images News/Getty Images
Everyone Is Waiting For Trump's Response To Maddow
On Tuesday night, the Donald Trump tax returns saga got a new twist, when MSNBC host Rachel Maddow revealed that she had gained access to the president's 2005 tax return, and was planning to talk about it on her show. While the public response was unsurprisingly enthusiastic, Trump himself has never been one to hold back, so many were wondering what Donald Trump's response to Rachel Maddow's tax return reveal would be. Sure enough, a statement from the White House arrived quickly.
The statement from the White House read,
You know you are desperate for ratings when you are willing to violate the law to push a story about two pages of tax returns from over a decade ago. Before being elected President, Mr. Trump was one of the most successful businessmen in the world with a responsibility to his company, his family and his employees to pay no more tax than legally required. That beings aid, Mr. Trump paid $38 million dollars even after taking into account large scale depreciation for construction, on an income of more than $150 million dollars, as well as paying tens of millions of dollars in other taxes such as sales and excise taxes and employment taxes and this illegally published return proves just that. Despite this substantial income figure and tax paid, it is totally illegal to steal and publish tax returns. The dishonest media can continue to make this part of their agenda, while the President will focus on his, which includes tax reform that will benefit all Americans.
Update: Trump tweeted an additional response on Wednesday morning: "Does anybody really believe that a reporter, who nobody ever heard of, 'went to this mailbox' and found my tax returns? @NBCNews FAKE NEWS!"
Trump's taxes became a huge issue during the presidential campaign. The chatter escalated further in September last year during a general election debate, when Trump challenged Democratic rival and former Secretary of State Hillary Clinton to release the 30,000 emails she had previously deleted from the private email server she had used during her tenure in the State Department. (Clinton deflected and did not take Trump up on his offer.) In January, then-President-elect Trump insisted in a press conference that "no one care[d]" about his unreleased returns, and that the only ones pushing the issue were the press. He also claimed he couldn't release them due to the fact that they were under audit. (Politifact noted that this was untrue, stating later that "the IRS has said he's allowed to release them whether he's under an audit or not (as Richard Nixon did)."
As of Tuesday evening, Trump's personal Twitter and his official @POTUS account had not commented on the "leak" (if one could even call it that), but knowing the president, it's likely he'll speak up soon enough.