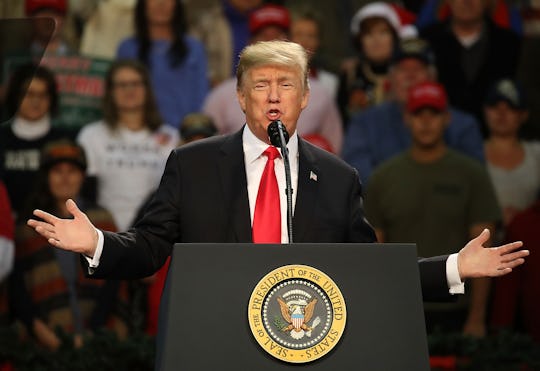 Joe Raedle/Getty Images News/Getty Images
Everyone Is Wondering What Trump Has To Say About Roy Moore's Huge Loss In Alabama
On Tuesday, Alabama voted to fill a Senate seat. The race quickly became a national topic not only for its sway in political potential (a Democrat winning the seat would mean the Republican's majority would shrink to a single seat advantage), but because of the allegations that followed Republican candidate Roy Moore throughout his campaign (and eventual loss). On Tuesday evening, The New York Times reported that Democratic candidate Doug Jones won the election to the Senate seat, and instantly people turned to the one man who has been incredibly vocal on behalf of Moore — Donald Trump. Trump's response to Moore's Senate loss comes mere hours after he tweeted his full support of the controversial candidate on Tuesday morning.
Earlier in the voting day, President Donald Trump tweeted to his 44.5 million followers that he fully endorsed Republican candidate Roy Moore. He had previously defended Moore during the height of sexual misconduct allegations (of which Moore has fully denied), and told voters to vote for someone who would "make America great again," at rallies. So the tweet on election day came as no surprise.
The people of Alabama will do the right thing. Doug Jones is Pro-Abortion, weak on Crime, Military and Illegal Immigration, Bad for Gun Owners and Veterans and against the WALL. Jones is a Pelosi/Schumer Puppet. Roy Moore will always vote with us. VOTE ROY MOORE!
Shortly after the Associated Press reported that Doug Jones had beat Roy Moore, Donald Trump took to Twitter to congratulate Doug Jones for his win in Alabama. He wrote:
Congratulations to Doug Jones on a hard fought victory. The write-in votes played a very big factor, but a win is a win. The people of Alabama are great, and the Republicans will have another shot at this seat in a very short period of time. It never ends!
Trump's reference to the write-in votes, as Axios' Alexi McCammond pointed out on Twitter, are actually important to note in that they may suggest people who were bothered enough by the allegations against Moore to not give him their vote, while still not giving Jones the same.
During the campaign for the Senate seat left open when Trump appointed Jeff Sessions early in his presidency, Donald Trump fully supported Moore throughout a series of allegations that Moore had made unwanted advances against multiple women, some being teenage girls. Moore has fully denied any allegations of assault against him, saying, "They're not only untrue, but they have no evidence to support them." Moore has also been criticized for his comments regarding the LGBTQ community and slavery.
The allegations shadowed much of the election, though, and President Trump seemed to continue his endorsement without any hesitancy. In early December, Moore shared the following tweet of a conversation he says he had with the president, in which he continued to support the Senate candidate.
Further to the point, at a Pensacola rally leading up to the Alabama election, President Trump told audiences, according to CNN:
"We cannot afford — this country, the future of this country — cannot afford to lose a seat in the very, very close United States Senate. We can't afford it, folks. We can't. We can't afford to have a liberal Democrat who is completely controlled by Nancy Pelosi and Chuck Schumer. We can't do it."
So, these results are big. They mean things are set to change — and if they're not set to change right away, things will at least become slightly more difficult for Republican agendas to pass the Senate. The importance behind the seat going to a Democrat is that the Republican majority is hanging on by a thread (one seat majority). As The New York Times puts it, "After Mr. Jones is sworn in, Republicans will control only 51 seats, creating a plausible route for Democrats to take over."