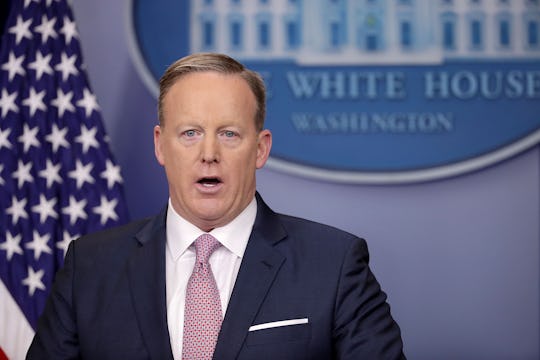 Chip Somodevilla/Getty Images News/Getty Images
Donald Trump Responds To Sean Spicer's Resignation
On Friday morning, former White House press secretary Sean Spicer submitted his resignation from the White House. President Donald Trump immediately found his replacements in the new press secretary, Sarah Huckabee Sanders and the new communications director, Anthony Scaramucci. But there is no lost love between Trump and Spicer. In fact, Donald Trump's response to Sean Spicer's resignation is surprisingly dignified.
In a press conference on Friday afternoon, hours after Spicer formally resigned, Huckabee Sanders read a statement from the president during a press conference. Trump said in the statement:
I am grateful for Sean's work on behalf of my administration and the American people. I wish him continued success as he moves on to pursue new opportunities, just look at his great television ratings.
Trump's statement is very composed. Coming from the man who says exactly what he feels, these are actually some pretty nice words. But it wouldn't be a statement from Trump without just a touch of snark (let's be real, that ratings comment could be interpreted as some serious shade). Trump, who is a former reality star that knows a thing or two about ratings, is right though. Just one month into his presidency, it was reported that Spicer's press briefings were receiving higher ratings than daytime soap operas that were running at the same time.
It is unclear exactly why Spicer resigned from the job (or if he'll have a future in television). According to CNN, Spicer resigned after Scaramucci was named the new communications director for the White House, which was a move Spicer reportedly opposed. Spicer's resignation wasn't great news for Trump. According to CNN, Trump had wanted Spicer to stay in his position of press secretary.
For the past two months, it had been rumored that Trump would find a replacement for Spicer and put him on the outs as press secretary, especially after Spicer appeared less frequently in front of the podium during press briefings and scaled back on the number of briefings altogether. In spite of the criticism he faced (and the hilarious parodies he inspired on Saturday Night Live), Spicer always claimed to love his job, calling it an honor and a privilege to be the White House press secretary. Spicer's statement after his resignation, shared to Twitter, was just as put together as the president's. "It's been an honor and a privilege to serve @POTUS @RealDonaldTrump and this amazing country," Spicer tweeted. "I will continue my service through August."
No one is certain what Spicer will do next (my fingers are crossed for a spicy tell-all book from Spicey himself). But, judging from their respective statements, it is certain that there is no bad blood between the former press secretary and the president.