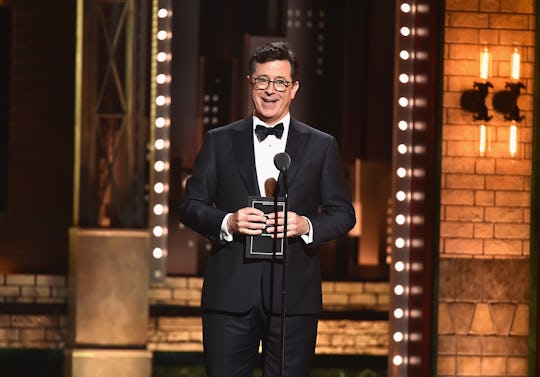 Theo Wargo/Getty Images Entertainment/Getty Images
Donald Trump Needs To Respond to Stephen Colbert's Emmys Monologue
Stephen Colbert knows a thing or two about politics — he has practically built his career pointing out the blunders of politicians. So when Colbert took the job of hosting the 2017 Emmy Awards, he was bound to throw some jabs at President Donald Trump — and he did. While the president hasn't said (or tweeted) anything (yet), Donald Trump's response to Stephen Colbert's Emmys monologue is something everyone started waiting for as soon as Colbert finished speaking. Come on, Trump. Where are you?
During his monologue, Colbert did an amazing song and dance performance. But once he was done parading around the stage, he launched right in to some classic Colbert jokes. He joked about the celebrities in the room, the TV shows up for awards, and most importantly — politics. According to ABC News, Colbert personally thanked the president for tuning into the show, saying that Trump is "the only one who has enough time to keep current with television nowadays." That could not be any more true.
Colbert also joked about how the president was nominated for Emmys in the past and never won, but should have — because then he might never have run for the White House. Colbert finished his presidential jab with a kicker, stating that he "looked forward to reading the tweets" from the president. Me too, Colbert. Me, too. But unfortunately, as of press time the president hasn't responded to Colbert's monologue. It's only a matter of time, though.
Needless to say, his tweets will definitely be coming in the morning. The president is one of the most popular television stars (both directly and indirectly), and loves to voice his opinion. As Colbert joked in the monologue, Trump has, in the past, tweeted about the Emmys, criticizing host Seth Meyers in 2014. If he can talk about how Meyers has "marbles in his mouth" then he will definitely have plenty to say about Colbert.
Colbert and Trump certainly have a history together. Colbert took some serious jabs at Trump while he was the host of Colbert Report on Comedy Central, and that's something he's continued to do as host of his current show, The Late Show with Stephen Colbert. His commentary on Trump is all in good fun — and when prepping for his Emmys monologue, Colbert told Variety that he wanted to keep a balance between politics and entertainment. Colbert said:
We are storytellers: The story we are telling is what happened on television this year. It's not a political monologue, but you can't keep politics out of it, because politics was the biggest TV story this year. The biggest story of the year is not Westworld. It's not The Handmaid's Tale. It's not Milo Ventimiglia's luscious abs. That's not what we cared about. The biggest TV star of the year is Donald Trump.
He does have a huge point. In 2017, Trump dominated news broadcasts and he inspired hilarious skits on Saturday Night Live (which just won an Emmy for the 2017 season). It was only natural for Colbert to bring up Trump during his monologue — there was no way not to. After rolling out the red carpet for the Emmys earlier this week, Colbert even suggested that Trump should be nominated for his "work" on television this year. Colbert told The Hollywood Reporter:
The fact that he's not nominated. It's a crime. It's a high crime and a misdemeanor that you are not nominated, sir. Where's the investigation on that? Where was James Comey on that?
With all of Colbert's jabs at the president, it is only a matter of time before Trump response to Colbert and the Emmy broadcast as a whole. What he'll say, however, is anyone's guess.
Watch Romper's new video series, Romper's DoulaDiaries:
Check out the entire Romper's Doula Diaries series and other videos on Facebook and the Bustle app across Apple TV, Roku, and Amazon Fire TV.