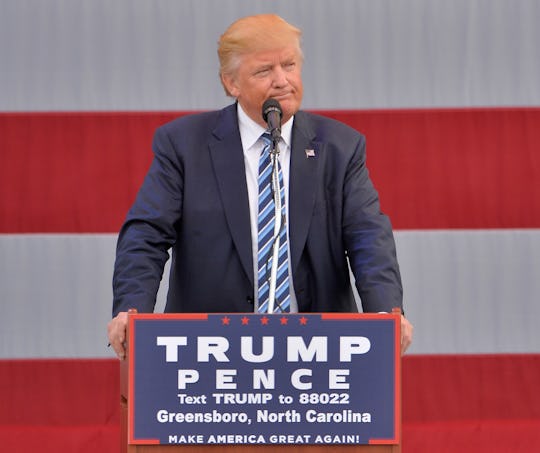 Sara D. Davis/Getty Images News/Getty Images
Donald Trump's Response To Summer Zervos' Allegations Approaches Them In The Wrong Way
Within the past week, six different women came forward accusing Republican Party presidential candidate Donald Trump of sexual assault and harassment. On Friday, a former Apprentice contestant Summer Zervos was the most recent of these women to accuse Trump of sexual assault. Throughout the week, Trump remained relatively quiet about the allegations —until Friday when Donald Trump responded to Summer Zervos' allegations — but got sidetracked during his statement, in typical Trump fashion.
According to CNN, during a press conference alongside high power attorney, Gloria Allred, Zervos alleged that Trump grabbed her inappropriately and kissed her aggressively. While Trump remained relatively quiet about the six different accusations on his official website, he did respond to some accusations on Twitter and by threatened to sue The New York Times for publishing two accusations and not taking them down at his request. The Trump campaign did not respond to Romper's request for comment about the allegations.
Trump, however, did take to his website where he responded to Zervos' allegations in a very long and extensive statement:
I vaguely remember Ms. Zervos as one of the many contestants on The Apprentice over the years. To be clear, I never met her at a hotel or greeted her inappropriately a decade ago. That is not who I am as a person, and it is not how I've conducted my life. In fact, Ms. Zervos continued to contact me for help, emailing my office on April 14th of this year, asking that I visit her restaurant in California.
Trump's statement denies the allegations and seems pretty sincere. That is, until you read the rest of statement's paragraphs — which, in typical Trump fashion, veer away from the important issue at hand and focus on the arbitrary. Trump continues:
Beyond that, the media is now creating a theater of absurdity that threatens to tear our democratic process apart and poison the minds of the American public. When Gloria Allred is given the same weighting on national television as the President of the United States, and unfounded accusations are treated as fact, with reporters throwing due diligence and fact-finding to the side in a rush to file their stories first, it's evident we truly are living in a broken system.
People are taking these allegations seriously because they should be taken seriously — not because they want to see Trump fail — but because they want these women to be heard.
But Trump's dig at women's right's attorney Gloria Allred shouldn't come as a surprise. In 2012, Allred represented Jenna Talackova, a transgender beauty pageant contestant who accused Miss Universe Canada for kicking her out of a pageant because of she was not a "naturally born woman." Trump co-owned Miss Universe at the time. According to The Daily Beast, Trump made a pretty lewd statement towards Allred during her representation of Talackova. "I think Gloria would be very, very impressed with me, I really do," Trump told TMZ. According to The Daily Beast, Trump was referring to his own "anatomy." This makes Trump's inclusion of Allred in his statement to be particularly wrong. Trump never had to drag Allred into the statement, especially knowing they had sparred in the past.
Trump's statement continues:
Hillary Clinton can spend all of her time and money pushing complete lies against our campaign, but I refuse to fall victim in this vicious style of personal attacks. In the coming days I plan on addressing our nation in a more personal way to present my vision for how we can fight to bring back American jobs and defend our country against radical Islamic terrorism. I will take my message directly to the American people and bypass the unethical press that wants to see their candidate elected. Together we will make America great again.
Last week, a video of Trump making lewd comments towards women resulted in the loss of GOP endorsements and several high profile GOP politicians to condemn Trump's words. For that matter, he responded with a three sentence statement — despite being a huge reported blow to his campaign. Trump's statement against Zervos' allegations completely approaches them in the wrong way. Trump could have released a statement denying the allegations. He did not have to turn around and call out Zervos for contacting him — which puts blame on Zervos. Trump's words about Allred, the media, and Clinton are irrelevant to what he was releasing a statement about.
Trump's statement simply distracts from the true subject of the matter — the recent sexual harassment and sexual assault accusations.