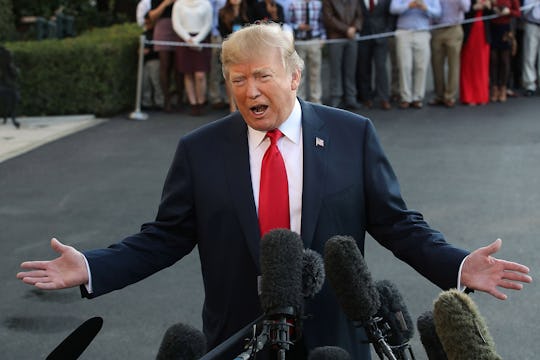 Mark Wilson/Getty Images News/Getty Images
Trump Says The Texas Church Shooting "Isn't A Guns Issue," Proving Nothing Will Change
The country was once again left reeling after a gunman opened fire in a church in Sutherland Springs, Texas, leaving at least 26 people dead and 20 others wounded. Given that the shooting is now said to be the largest mass shooting on record in Texas, according to CNN — coupled with the fact that it has literally only been just over a month since 58 people were shot and killed by a gunman in Las Vegas — it wasn't long before many Americans were again calling for greater gun safety legislation. But President Donald Trump's response to Sutherland Springs shows he still has little interest in gun safety, even though innocent people are continuing to be killed for no good reason, while just going about their regular, daily lives.
Everything about the Sutherland Springs shooting is, of course, undeniably tragic: not only did the shooter open fire in a church of all places, but his victims ranged in age from only 5 years old, to as old as 72. One of them was the pastor's own 14-year-old daughter. And eight of them are thought to have all been members of the same family. But many of the details are infuriating, too. The shooter, for example, is thought to have used an AR-15 to carry out the attack, according to The New York Times — the same popular military-style rifle used in some of the country's deadliest mass shootings, including the 2012 massacre at an elementary school in Newtown, Connecticut; the 2012 movie theater shooting in Aurora, Colorado; the 2015 shooting in San Bernardino, California; and the 2015 mass shooting at a community college in Oregon.
But that's not all. The gunman who opened fire at Pulse nightclub in Orlando in 2016, which previously held the dubious title of the country's deadliest mass shooting in modern history before last month's massacre in Las Vegas? According to Mother Jones, he used a legally-purchased Sig Sauer MCX rifle, which, you guessed it, is pretty darn similar to an AR-15 (he also carried a Glock 17 handgun). And according to The New York Post, one of the (many) guns the Las Vegas shooter used to open fire on a crowd of concert-goers from his hotel room was an AR-15 rifle, to which he reportedly added a "bump stock," allowing it to fire more rapidly.
If nothing else, you'd think that we could at least all agree that there is a pretty clear pattern of people using rifles to kill as many innocent human beings as they possibly could. Yet when asked about the Sutherland Springs shooting during a news conference in Tokyo Monday, the president downplayed the idea that stricter gun safety laws might be needed in the United States, and literally said that the shooting "isn't a guns situation." According to The Washington Post, Trump said,
I think that mental health is your problem here. Based on preliminary reports, this was a very deranged individual, a lot of problems over a long period of time. We have a lot of mental health problems in our country, as do other countries. But this isn't a guns situation. We could go into it, but it's a little bit soon to go into it ... but this is mental health problem at the highest level.
Trump didn't only choose to ignore the possibility that gun safety laws could literally save lives and prevent future mass shootings though, he also lauded the actions of an armed civilian who is said to have confronted the shooter with his own weapon as he was attempting to leave the church. Citing an argument popular among gun rights advocates — that "good people" with guns could help stop mass shootings — Trump told reporters that, "fortunately, somebody else had a gun that was shooting in the opposite direction," which, he said prevented the shooting from being "much worse."
Unsurprisingly, Trump's comment led to many Americans venting their frustrations on social media, where users seemed baffled by Trump's logic:
While others pointed out that, if he actually believed that mental illness was to blame when mass shootings happen, perhaps he shouldn't have rolled back legislation that ultimately makes it easier for individuals with a history of mental illness to purchase guns. According to Vox, Congress passed a law in February blocking an Obama-era requirement that would have allowed the FBI to flag Americans with severe mental illness during firearm purchase background checks.
And then, well, there's also the fact that when an Uzbekistan immigrant used his truck to kill eight people in New York City on Oct. 31, pledging allegiance to ISIS, the president was quick to condemn the act as terrorism, and call for "extreme vetting" of immigrants:
There's no question that the Sutherland Springs shooting was an unbelievable tragedy, and it's a terrible reminder of the awful reality of gun violence in America. It's also true that there is no easy answer to solving the issue of gun violence that everyone will agree with. But in the wake of yet another mass shooting, it's unacceptable for the president to ignore the possibility that gun safety laws — laws that have proven to reduce the incidence of massacres in other developed nations — could be of at least some value.
Trump is right to be concerned about the state of mental health, at least in the sense that mental illness is a hugely pervasive issue that is far from being considered a government priority. Mental health resources tend to be underfunded and hard to access, and the stigma surrounding mental illness leaves many people suffering in silence. But supporting mental health doesn't eradicate the need for greater gun safety. And until the government takes a stand, it seems like it will only be a matter of time before another mass shooting occurs.