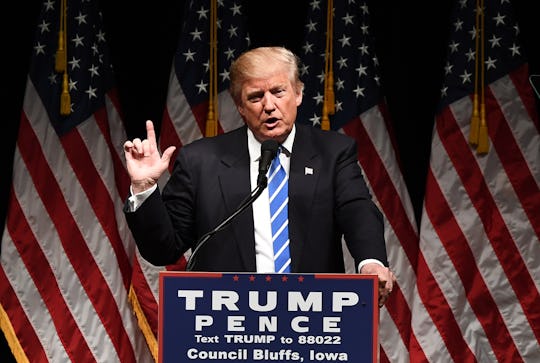 JEWEL SAMAD/AFP/Getty Images
Donald Trump's Response To The Iowa Officer Shooting Focused On Prayers For The Families
In the early hours of Wednesday morning, two Iowa police officers were fatally shot while they were reportedly in their vehicles. The authorities are referring to the attacks as "ambush-style" attacks, which happened 20 minutes apart from each other, and at separate locations. The suspect, Scott Michael Greene, 46, is in custody, and people throughout social media have expressed their outrage and condolences for the slain officers' families. The presidential nominees have also taken to their social media accounts to express their condolences. Donald Trump's response to the Iowa officer shooting focused on sending prayers to the families affected. Romper contacted the Urbandale Police Department regarding comment from a representative for Greene and has yet to receive a response.
As The Des Moines Register reported, Greene is the suspect connected to the deaths of the two officers on Wednesday morning. The first officer, from the Urbandale Police Department, was reportedly shot at about 1:06 a.m., and the Des Moines police officer was later shot, about 20 minutes later at a separate location, as he was responding to the scene where the Urbandale officer was shot. The police officers have now been identified as Des Moines police Sgt. Anthony "Tony" Beminio, and Urbandale police officer Justin Martin, The Register reported.
In a tweet dedicated to the shooting tragedy on Wednesday, Trump wrote:
Greene, who is white, has apparently had previous run-ins with law enforcement in Iowa. According to The Register, Greene had reportedly been charged with a simple misdemeanor for resisting an attempt by officers to pat him down for weapons in 2014. An officer complaint reportedly described Greene as being, "noncompliant, hostile, combative and made furtive movements toward his pockets," The Register reported.
Greene was also reportedly charged with a first-degree harassment charge, in relation to a complaint that he reportedly shined a flashlight in a man's eye calling him the n-word, and saying, "I will kill you...," according to a complaint obtained by The Register.
Additionally, as BuzzFeed reported, many have connected Greene to an October YouTube video (uploaded by user named "Scott Greene") in which, what appears to be Greene, is seen arguing with officers for being removed from the Urbandale High School football stadium. Greene had reportedly held a Confederate flag in front of black people sitting in the stands of bleachers. The Register reported that authorities have said that Greene, the suspect, was indeed removed from the high school's football stadium.
Democratic presidential nominee, Hillary Clinton, has also expressed her condolences on Twitter, she wrote: "Heartbroken for the families of two brave officers who were killed in Iowa. There's no justification for this kind of violence. -H."
But in the midst of condolences, and mourning felt throughout the country, after Greene's photo identity was released to the pubic, many on Twitter were quick to call out false and deeply racialized assumptions made about the suspect's race, and their connection to the Black Lives Matter movement — a movement that does not, and has not ever, promoted violence.
Shaun King, activist and senior justice writer at the New York Daily News, retweeted comments that swiftly blamed the Black Lives Matter movement — you know, the movement that seeks to end the disproportionate number of black lives lost at the hands of police, among other marginalizations and injustices — for the horrific shootings in Iowa.
But criminalizing the Black Lives Matter movement, and associating black lives to crime in general, continues to a societal problem with racist roots and practices.
Trump himself, has made numerous racialized comments about crime and "law and order" during the election cycle, like endorsing "stop and frisk," which largely targeted black and Hispanic youth (and was ruled unconstitutional). Trump has also connected black communities to "inner cities," where he said people are "living in hell." It's also worth noting that The Crusader, a newspaper affiliated with the Ku Klux Klan, threw its support behind Trump (as a nonofficial endorsement) on Tuesday in a move that says very much about the way his campaign has targeted marginalized groups. Trump's campaign responded to the support, according to NPR:
Mr. Trump and the campaign denounces hate in any form. This publication is repulsive and their views do not represent the tens of millions of Americans who are uniting behind our campaign.
And Clinton too, has been widely criticized for a past racialized comment she made in the 1990s, referring to black and Latino youth as "super-predators." Additionally, she's come under scrutiny for her husband's controversial crime bill and its impact on mass incarceration.
America in general has a history of criminalizing black lives, racial biases, and racially-biased media coverage that affects the way black people are widely perceived to be connected to crime.
As the country mourns the loss of the officers, and sends thoughts and condolences to their families, it's important to remember attacks like these should not lead to racially-fueled assumptions about suspects — but instead it should lead to an aggressive, and warranted discussion about the cause of such heinous crimes.