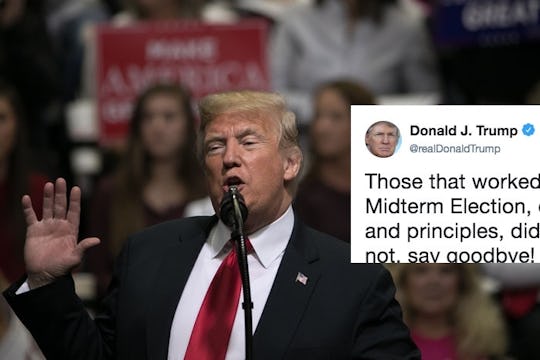 Alex Wong/Getty Images News/Getty Images
How Trump Responded To The Midterm Election Results Shouldn't Surprise Anyone
On Tuesday Nov. 6, the world watched and waited to see how the 2018 midterm elections turned out. Considering everything that's gone down since Donald Trump was sworn in as President of the United States, a lot has been at stake with this particular election. So with Democrats taking control of the House of Representatives for the first time in eight years and Republicans holding the Senate, you can imagine what Donald Trump's response to the midterm elections results was.
The POTUS wasted no time reacting to preliminary election results — and he did so using his favorite social media platform: Twitter. On Wednesday morning, Trump shot off a series of rambling tweets patting himself on the back for the GOP's wins.
"Received so many Congratulations from so many on our Big Victory last night, including from foreign nations (friends) that were waiting me out, and hoping, on Trade Deals. Now we can all get back to work and get things done!," the president tweeted.
Trump then penned a tweet congratulating Republican Ron DeSantis on his as Florida's next governor, by razor thin margins, over Democrat Andrew Gillum, who ultimately conceded, according to The New York Times. "Ron DeSantis showed great courage in his hard fought campaign to become the Governor of Florida. Congratulations to Ron and family!" Trump wrote in a tweet.
His third tweet on Wednesday morning failed to mention the GOP's many losses directly and indicted that the Republicans who lost did so because they did not follow his advice. And, of course, he attacked the media.
"Those that worked with me in this incredible Midterm Election, embracing certain policies and principles, did very well," Trump tweeted. "Those that did not, say goodbye! Yesterday was such a very Big Win, and all under the pressure of a Nasty and Hostile Media!"
With the many women and LGBTQ people now elected into office, this election was indeed a very big win for many Americans. According to CNN, a "record number" of women and LGBT candidates have now been elected, including two Native American women and a Somali refugee.
What's more, as TIME reported, a poll by the Institute of Politics at Harvard's Kennedy School of Government predicated young voters would turn out in record numbers this year. And they did; according to Teen Vogue, the number of early voters in Tennessee between the ages of 18 to 29 was seven times higher than in 2014, probably thanks to Taylor Swift's recent and rare political statements urging people to vote.
The 2018 midterm results could have reflected President Trump's low approval ratings, according to Business Insider, combined with the enthusiasm of Democrats and the historic number of open Republican seats up for grabs all played into this advantage.
In contrast to Trump's remarks following the election, others' reactions were filled with hope and more will to fight. For instance, writer Roxane Gay tweeted an important reminder: "There is a lot to be happy and encouraged about. Two Muslim women in Congress and two Native American women. Women, generally. There will now be more than 100 women in the House. The KS governorship and also NM. The House, overall, flipped which is a very big deal."
As final results are confirmed — as of Wednesday morning, Stacey Abrams had refused to concede in Georgia race for governor, according to CNN — the results thus far are encouraging. We knew the stakes were high going into the midterm elections — which is why voter turnout was so important. Although President Trump may not be pleased with how it all turned out and failed to acknowledge other incredible wins, I'm pretty sure plenty of Americans have a slightly-restored faith in our nation's values. I know I do.