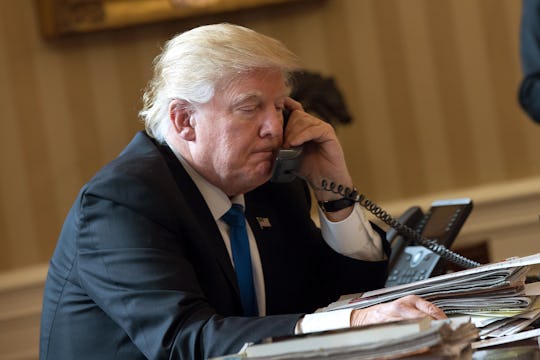 Drew Angerer/Getty Images News/Getty Images
People Are Waiting For Trump's Response To The St. Petersburg Explosion
On Monday morning, news broke that there was an explosion on a St. Petersburg metro, originally reported by state-run media. According to CNN, the explosion took place on a subway car, leaving what seems to be 10 dead with many more injured. The news is tragic, and Russian President Vladimir Putin has already expressed his condolences to the victims of the incident. Many are also waiting to see what President Donald Trump's response to the St. Petersburg metro explosion would be.
Update: According to Reuters, President Trump responded to a reporter asking about the explosion with the following statement: "Terrible. Terrible thing. Happening all over the world."
Earlier: As the news develops, President Trump has not yet responded to the incident in St. Petersburg. This post will be updated with his response as soon as it is released, but at the time of publication, and after the news of the attack was reported, President Trump tweeted about the claims that he was being electronically surveilled. His tweet read: ".@FoxNews from multiple sources: 'There was electronic surveillance of Trump, and people close to Trump. This is unprecedented.' @FBI"
Many are waiting to hear how President Trump handles the news of a potential attack — no one from his team (Sean Spicer) or the White House has released a statement at the time of publication. Of course, his Twitter is most likely being closely watched by those wondering how he'll respond to the news. His social media presence since taking his role as POTUS has been one easily criticized aspects of his presidency.
According to social media, a car on the subway at the Sennaya station seems to have been blown out. At the time, President Putin is considering all causes, including terrorism, according to the BBC. Extra security precautions are being put in place due to the explosion.
According to ABC News, President Putin spoke in front of cameras after the explosion stating:
"Unfortunately, we have to begin our meeting with this tragic event. The causes are not yet clear, and so it's still early to talk about that, the investigation will show. But, naturally, we always examine all versions, ordinary and criminal, above all incidents of a terrorist character."
It is unclear what caused the explosion, but social media is showing a lot of images and videos of the aftermath of the incident. While some of the images and videos could be helpful in the investigation, there are definitely a lot of graphic images due to the tragic amount of injuries and deaths the explosion caused.