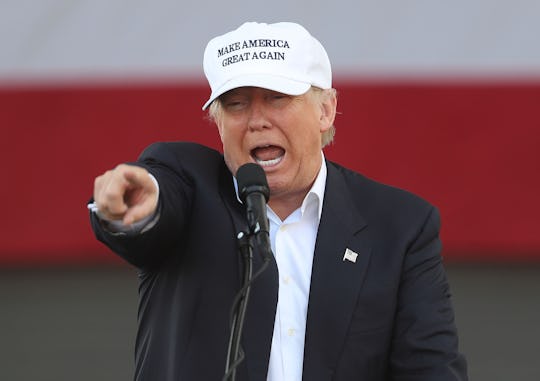 Joe Raedle/Getty Images News/Getty Images
Donald Trump's "Rigged" Election Claims Are Reportedly Causing Real Voter Intimidation
There may only be a week left before Election Day, but recent lawsuits brought against the Republican National Convention and Republican nominee Donald Trump hint that possible voter intimidation has already been reportedly occurring at early polls. Trump has been making claims about an unfair election for a while now — but could Trump's "rigged" election claims cause real voter intimidation?
According to lawsuits filed by Democratic parties in several different states, that answer is "yes." Last Wednesday, the Democratic National Convention sued the RNC, saying that Trump's recruitment of volunteer "election observers" violated a 1982 court order barring the RNC from taking part in ballot security efforts. That original court order came about after the RNC attempted to intimidate and question registered voters in mainly African-American and Hispanic precincts, according to Bloomberg, and the DNC alleges that Trump's poll watchers today amount to similar voter intimidation. It's a claim that the RNC denies. "The filing is completely meritless," a spokeswoman for the RNC, Lindsay Walters, told Bloomberg. "The RNC strictly abides by the consent decree and does not take part directly or indirectly in any efforts to prevent or remedy vote fraud. Nor do we coordinate with the Trump campaign or any other campaign or party organization in any efforts they may make in this area."
However, Trump campaign manager Kellyanne Conway reportedly told The Washington Post's Robert Costa in October that the campaign was working closely with the RNC to monitor precincts nation-wide. Following the DNC's lawsuit filing, a federal judge in New Jersey asked the RNC to turn over all communications related to poll-watching that had taken place between the Trump campaign and the RNC.
Then, on Sunday, Democratic Party officials in four states sued Trump, saying that his "campaign of vigilante voter intimidation" violated two laws: a law from 1871 known as "the Ku Klux Klan Act" and the 1965 Voting Rights Act. According to Reuters, civil rights groups have reported several cases of poll monitors taking pictures of voters, one of several intimidation tactics. The Arizona Democratic Party also alleged that the Republican Party was telling poll watchers to demand identification from voters delivering multiple ballots at polling stations, as well as to follow suspected fraudsters into parking lots, ask them questions, note their license plate numbers, and call 911 to report a felony, according to The Atlantic.
Democrats also sued Roger Stone on Sunday, the man behind Stop the Steal, a website intended to recruit "Vote Protectors" to "demand inspection of the software used to program the voting machines," "conduct targeted exit-polling," and "to monitor voting for fraud," according to the Stop the Steal website. Stone told Reuters that his 1,400 volunteers were told to only approach voters after they had exited the polls. "Since we are only talking to voters after they have voted, how can we be intimidating them?" he asked.
Other lawsuits brought forth by the DNC allege that poll watchers have monitored early polls illegally and harassed voters as they've shown up to cast their ballots, questioning and yelling at them.
According to ABC, in the course of three years, only 25 people were indicted for voter fraud — out of 197 million voters. That puts the chances of voter fraud occurring at .00000013 percent. However, voters across the country are convinced that their election is being unfairly rigged, and they're angry about it. If party officials' and civil rights groups' allegations of voter intimidation are true, the chances that voters will feel threatened or see violence erupt on Election Day may not be so slim after all.