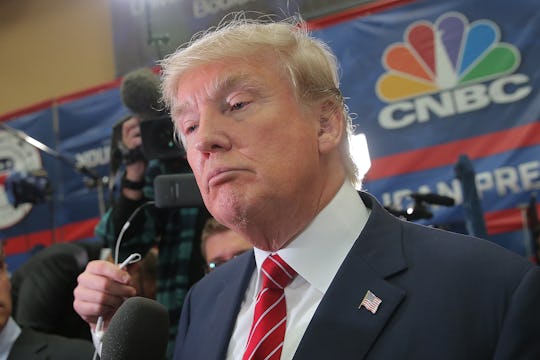 Andrew Burton/Getty Images
Donald Trump's 'SNL' Performance Is Perfectly Summed Up In This One Tweet
Without a doubt, Twitter has made this election cycle far more interesting. And Saturday night was no exception: Just as I knew there would be, there was one Tweet that perfectly summarized Trump's SNL performance and proved why there's no better way to watch Donald Trump than with Twitter in the background. Of course, the candidates themselves have taken to the platform as a way to get their messages out — in fact, Donald Trump relies on Twitter in lieu of traditional advertising — but the ongoing commentary from users has been a thing of beauty. Sometimes insightful, often hilarious, when it comes to political moments, Twitter always delivers. 
For better or worse, I spend most of my day following what the presidential candidates are up to on both sides of the aisle. Of course, following election headlines and political news is part of my job. But I'm also kind of obsessed with all the ways this election cycle is bucking traditional wisdom: outsiders are in, party favorites are fighting for strongholds, and big personalities seem to trump policy or political experience (pun very much intended). 
Of course, whether Trump would be able to make fun of himself and his outsized personality was one of the key questions going into his SNL appearance. And this tweet from Washington Post writer Alexandra Petri, quoting SNL star Vanessa Bayer, perfectly sums up how he managed it by capturing how the SNL cast felt (or pretend to felt) working alongside him:
We feel you, Vanessa. We feel you. 
Image: Andrew Burton/Getty Images