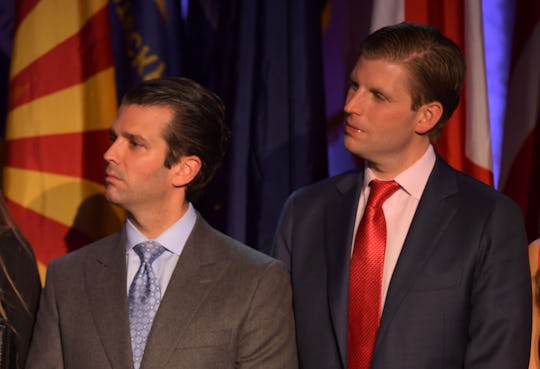 JIM WATSON/AFP/Getty Images
Donald Trump's Sons Are Offering Donors Time With Him For $1 Million, & It's Weird
According to the Center for Public Integrity, President-elect Donald Trump's sons are offering access to the president-elect for the paltry sum of $1 million. Eric and Donald Trump Jr. are offering the service through their newly created, five-day-old Texan charity called the Opening Day Foundation, and those who donate $500,000 or $1 million will reportedly receive a "private reception and photo opportunity" for up to 16 guests with Trump.
A draft of the event's brochure, which takes place the day after Trump's inauguration, was published by TMZ on Friday. It read:
Opening Day is your opportunity to play a significant role as our family commemorates the inauguration of our father, friend and President Donald J. Trump. Join us as we celebrate the great American tradition of outdoor sporting, shooting, fishing and conservation.
According to the draft, donations of over half a million dollars will be rewarded with a private reception with the president-elect and a multi-day hunting or fishing trip with his two eldest sons. Net proceeds from the event will allegedly go to unnamed conservation charities. Additionally, since the event is run through a non-profit, donors' names would not legally have to be disclosed to the public, meaning donors vying for a meeting with Trump could remain anonymous. Trump's transition team did not immediately respond to Romper's request for comment regarding the receptions and whether Trump's sons were involved.
Update: A press release from the Trump transition team said Trump's sons were not involved in the fundraising event "in any capacity." But Rebecca Ballhaus of the Washington Post pointed out that the statement doesn't clarify why his sons are listed as directors for the nonprofit hosting the fundraising event if they are not involved in any capacity, according to TIME.
According to the Center for Public Integrity, the event was confirmed by Walter Kinzie, the CEO of event management company Encore Live, who said his company would be involved in managing Opening Day. He claimed the brochure posted on TMZ wasn't completely accurate, and that the participation of Trump family members had yet to be confirmed.
Trump family members already canceled one paid meet-and-greet last week. The Eric Trump Foundation was auctioning off a coffee with Ivanka, Trump's daughter, to the tune of several thousands of dollars. The proceeds would go to the Eric Trump Foundation and benefit a children's hospital in Tennessee, but it was a situation that remained problematic due to the Trump family's involvement in the presidency (several Trump family members have attended political meetings and Ivanka reportedly called Congress members to discuss policies just recently).
Fred Wertheimer, president of a non-profit that works to limit special interests' influence, told The New York Times regarding Ivanka's meet-and-greet:
This is just wrong. The president's family should not be out raising money for whatever cause, in exchange for a potential influence buyer who wants to get his views to the president.
According to The New York Times, federal employees have strict rules that govern donation solicitations, but presidents are excluded from those. The Obama administration, however, did not allow Obama family members to request donations, since it could introduce problematic ties. As ethics lawyer Norm Eisen explained to The New York Times, "You never, ever want to have government officials using their public office for the private gain, even for a worthy charity."
The Trump family may have canceled a potential meet-and-greet with Ivanka, but it looks like a direct meeting with Trump — who will be president by the time the Opening Day event takes place — could still be in the cards for those willing to shell out. And since Opening Day is a non-profit, whoever nabs that private meeting with Trump could remain entirely confidential.