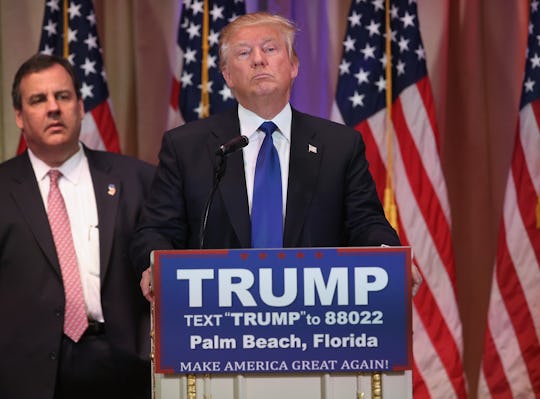 John Moore/Getty Images News/Getty Images
Donald Trump's Super Tuesday Speech Was Weirdly Subdued For Donald Trump
With the polls now closed and most states reporting in, it is official. Business mogul — and billionaire — Donald Trump has won Super Tuesday. At press time, and when Trump delivered his Super Tuesday victory speech, he had won five out of 12 states. Trump went into Super Tuesday with a glaring lead over his opponents: one CNN/ORC national poll predicted Trump would get 49 percent of the Republican vote, a full 30 percentage points ahead of Florida Sen. Marco Rubio, according to CNN. And it seems those predictions were spot on.
In fact, minutes after the polls closed, Trump was declared the winner in Georgia, Tennessee, Alabama, and Massachusetts — and was predicted to "leave his Republican rivals in the dust" in most other states, according to Politco.
After a brief introduction by New Jersey Gov. Chris Christie, surrounded by friends, peers, and countless supporters, Trump delivered his victory speech — and it was a fairly subdued speech at that.
He thanked his employees all over the country, and all over the world. He congratulated Texas Sen. Ted Cruz on his win in, well, Texas. He made jabs at Florida Sen. Marco Rubio, calling him a "lightweight" and the "loser of the night."
He spoke about how Mexico is "destroying" the country as well:
[Mexico is] killing us on the border. Absolutely destroying us on the border. They're destroying us in terms of economic development...we have to stop it. I know how to stop it.
Trump then promised to "create jobs" and "lower taxes...for the middle class. "The middle class has been forgotten in our country," he said, "... so we are going to lower taxes."
He spoke about making our military "bigger and better and stronger than ever before" so nobody "messes with us" ever again. Because, as Trump said, America is in trouble. Trump then spoke about how good he is for women:
I'm going to be really good for women. I'm going to be good for women's health issues.
Of course, it wouldn't be a Trump speech without a few vicious jabs at former Secretary of State and Democratic front-runner, Hillary Clinton:
She wants to make America whole again, and I'm trying to figure out what that is all about...I'm trying to make America great again...make America great again is going to be so much better than make America whole again.
Then Trump, in traditional Trump fashion, ended with a Q&A. Or as the press probably likes to call it, "insult and dismiss." So at least he ended the night on a characteristic high note. Right?