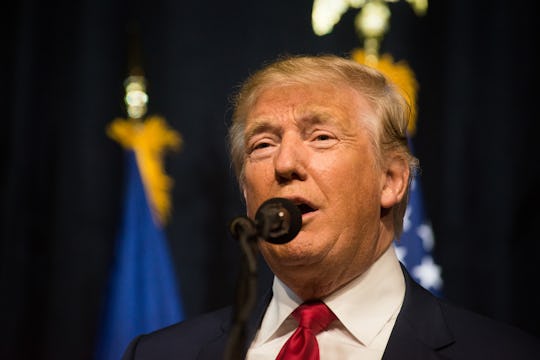 Theo Stroomer/Getty Images News/Getty Images
Donald Trump's Tax Controversy, In Language Everyone Can Understand
While running for president, Donald Trump has been increasingly controversial, often voicing prejudiced statements, spouting inconsistencies, and getting caught in lies. Still, he remains a steadfast contender in the polls, his supporters unwavering. Donald Trump's tax controversy, though, threatens to thwart that semi-secure status. Less easy to understand than, say, Trump's comments on a woman's body or his desire to build a wall between the United States and Mexico, the tax controversy has made waves in that it has the potential to reveal blatant, written accounts of Trump's dodging taxes so that, at its simplest possibility, he avoided paying taxes for decades. Need a bit more elaboration in order to fully grasp how this could come to be? Here's an explanation of Trump's tax controversy, in language everyone can understand.
Unearthed by The New York Times, Trump's 1995 tax returns show that, through his own dissatisfactory business dealings and investments, Trump claimed a whopping $916 million loss. As U.S. tax codes allow citizens to deduct their business losses from their personal taxes, Trump could then deduct the his income taxes each year until the amount totaled $916 million.
Still following? So, let's say 1996 rolls around. Trump's income, however little or grand the amount, now doesn't have to be taxed because whatever "grace" total has been rolled over from the previous year. Instead, his personal income is just deducted from the aforementioned $916 million loss. This cycle could have continued for years and years until the entire $916 million was accounted for.
Now, to be clear: this potential sequence of events is totally legal and, as of now, Trump hasn't released his tax returns, so we won't know exactly how things went down until when—or if—he chooses to release them. But, whereas his shady tax deductions may not be against the law, they definitely do not speak well of a candidate who constantly harps on Americans who don't pay taxes. Trump has tweeted, repeatedly, against those who don't pay their fair share and now, he could very well be one of them.
Trump could clear up these allegations easily; All he needs to do is release his tax returns, as Hillary Clinton has done, along with so many other politicians who came before her. As for now, voters are left to speculate his reason for not having done so—has his income remained lower than he's boasted? Has he underreported his income to the IRS? Is there something in between (and more complex) at play? Regardless, his refusal to be transparent leads one to believe that Trump's hiding something politically detrimental, of which his supporters should be wary.