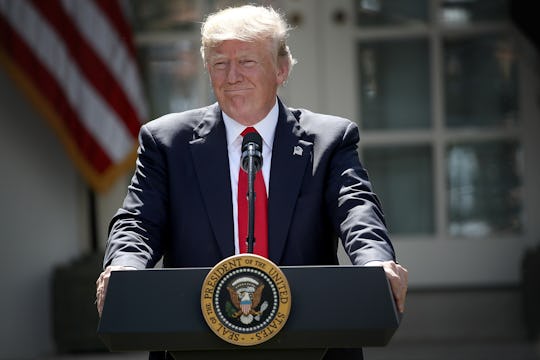 Win McNamee/Getty Images News/Getty Images
Donald Trump's London Incidents Tweet Is A *Huge* Fail
On Saturday, news broke that there were multiple incidents in London that police were reporting to. One took place at the London Bridge, where a truck reportedly veered off into pedestrian traffic. Then, there were reported stabbings at a local market, that was nearby the bridge, making the two incidents seem potentially related. In a time of terror for London, President Trump used the attack to tweet about the travel ban he has been trying to push on America since he became president in January. And not only was it a tone deaf tweet (that was quickly followed by a slightly more sensitive, condoling tweet) but it proves that he had the absolute wrong response to the incidents in London, and it's truly a learning experience for all.
UPDATE: The London Bridge attack has since been declared a terrorist incident, according to the Associated Press. London Metropolitan Police Commissioner Cressida Dick on Sunday confirmed that the death toll in the London Bridge attack had been raised to seven, not including three of the attackers, with at least 48 others injured. Dick added that the remaining injured had been transported "to five hospitals across London." Some were in critical condition. The three attackers "were fatally shot by officers within eight minutes of the first emergency call," according to The Washington Post. An additional 12 people have also been arrested in connection with the attack.
EARLIER: London officials are reporting casualties because of the incidents that took place, meaning this is really a time to offer help and condolences (which, fairly, don't do much other than show support) to those who are affected by the tragedies. It is not a time to tout an unsuccessful travel ban. But, that lack of sensitivity did not flow through Trump's veins when he hit send on his first of two tweets following the London incidents.
"We need to be smart, vigilant and tough. We need the courts to give us back our rights. We need the Travel Ban as an extra level of safety!" Trump tweeted initially following the attacks in London, which officials now are considering terrorism. If the tweet is doing anything for Donald Trump and his supporters, it's praying on the fear that he knows terrorism instills. By using a terror attack to push a foreign policy agenda, those that fear attacks in America are more likely to get behind a travel ban that's constitutionality has been brought into question.
But, leaning into fear and hoping people buy into his ban is not only manipulative, it's also disgusting. For the first tweet to be about banning Muslim-majority countries from entering the United States, Trump ignored the fact that the U.K. has experienced multiple attacks in the last three weeks, leaving many dead (Manchester's concert attack being the most recent).
After that tweet sunk in for a few minutes, Trump tweeted a rather overly-eager tweet that read as the complete opposite of his initial tasteless tweet.
While it is fair to admit that "sending thoughts" to another country after an attack like this is rather unhelpful, in a time of social media, it has become customary for leaders to express their support for countries experiencing tragedies. To take that moment and make it about a travel ban, leaning into the fear that Trump counts on from his supporters and those that share similar fears, is the wrong way to approach an attack. Instead, offer the country support and think about how what the United States can do to help them now.