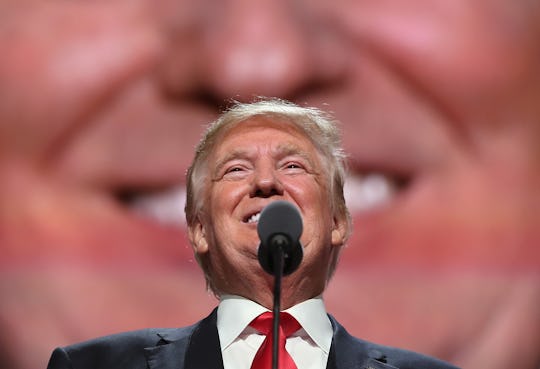 John Moore/Getty Images News/Getty Images
Donald Trump's Tweets About Bill Clinton & The DNC Prove Twitter Is His Political Strategy
Donald Trump might officially be the Republican presidential candidate now, but there's still an awful lot the American public doesn't know about his actual platform. One thing pretty much the entire world knows a lot about though? His prolific tweeting habits. As usual, Trump has been using the social media outlet to share a seemingly endless stream of bold claims, criticisms, and comments that pat himself on the back for a job well done. Donald Trump's tweets about Bill Clinton and the DNC following the second night of the event are no different, and suggest that, out of all the unconventional aspects of his presidential campaign, his reliance on Twitter might just be one of his most important political strategies.
On the second night of the 2016 Democratic National Convention in Philadelphia, Pennsylvania, former president Bill Clinton addressed the crowd, speaking about his wife's strength and skill as a "change-maker," according to The New York Times. He didn't mention Trump specifically in his speech, but that didn't keep Trump from hitting back anyway. In a tweet Tuesday night, Trump called Clinton "highly overrated," writing, "No matter what Bill Clinton says and no matter how well he says it, the phony media will exclaim it to be incredible."
But, of course, it wasn't just Clinton Trump had choice words for. Naturally, Trump has been following the DNC intently, and has called out a number of the speakers for what they had to say in support of Democratic presidential candidate Hillary Clinton, and the Democratic party as a whole.
There was his tweet about Massachusetts Sen. Elizabeth Warren after her speech on Monday:
Then came the tweets about Vermont Sen. Bernie Sanders:
And, of course, more tweets about Hillary:
The DNC as a whole:
New Jersey Sen. Cory Booker:
Even Vice President Joe Biden was added into the mix Wednesday morning:
And, naturally, a handful of tweets about himself sprinkled in for good measure:
Of course, Trump has never shied away from attacking Democrats, or anyone he considers to be against him in any way. Twitter was an important tool for Trump during the primary season, when he regularly tweeted against competitors Texas Sen. Ted Cruz, Florida Sen. Marco Rubio, former Florida Gov. Jeb Bush, and pretty much anyone else who tried to fight him for the Republican nomination. And it certainly doesn't seem to be hurting: Trump, after all, won the GOP ticket by a wide margin, and has consistently been able to fire up his supporters to the point where they appear to not even be fazed by any of the controversy surrounding him. While the idea of Trump becoming president once seemed laughable, these days, it's clear he has a very good chance of actually making it happen.
Unfortunately, it's hard to imagine that his constant spew of hatred and judgment would end if he were sworn into the White House in 2017 — and in fact, bolstered by such a monumental win, it wouldn't be surprising if it only got stronger. After all, Trump has in many ways built his entire campaign around the power of social media, and technically there isn't anything wrong with that. It would be nice though, if instead of using Twitter for insults and attacks, he used it to actually let voters know what he actually plans to do to "make America great again." (AKA, the part that actually really matters.)