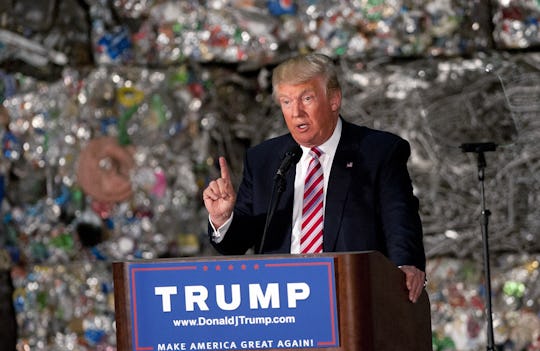 Jeff Swensen/Getty Images News/Getty Images
Donald Trump's Tweets About The Istanbul Attack Show A Lack Of Empathy
As news broke that attackers had set off suicide bombs at an airport in Istanbul, killing nearly 50 people and wounding many more, the world reacted with horror and shock. Of course, presumptive Republican nominee Donald Trump wasted no time in taking to Twitter. Trump's tweets about the Istanbul attack imply that he will be responding to this newest tragedy like he has responded to other recent ones—with xenophobia, fear-mongering, and hatred.
Update, 7:17 p.m. ET: Istanbul's governor says at least 31 people were killed in the Istanbul Ataturk airport attack, and hundreds more were wounded, according to the Associated Press. Authorities believe there were three suicide bombers. This corrects earlier estimates from the Turkish justice minister that put the number of fatalities at 50.
While Trump's response to the Istanbul attack is not nearly as shockingly unsympathetic as his tweet in the wake of the deadly mass shooting in Orlando, in which he now-notoriously bragged, "Appreciate the congrats for being right on radical Islamic terrorism," he still failed to express empathy for or solidarity with the victims beyond a simple, "So sad," which seems like the most cursory bone he could throw to all those suffering. Instead, he used his space to ask, "Will the world ever realize what is going on?" which appears to imply that he does know. (Romper reached out to the Trump campaign for comment on his remarks, but the Trump campaign did not immediately respond.)
He then continued by tweeting, "We must do everything possible to keep this horrible terrorism outside the United States." On the one hand, that's a completely valid statement. Yes, the United States government should do its absolute best to prevent terrorism. But Trump's way of "preventing terrorism" is, of course, to ban Muslims from entering the country, an idea he has talked about multiple times before, although in recent days he has softened his position so that it encompasses only immigrants coming from countries with known terrorist ties, as opposed to all Muslims everywhere.
Using tragedy as fuel for his hateful policy positions and to incite prejudice against a religion is not a new strategy for Trump, and it's a dangerous one, especially in times when people should be coming together in compassion.
But for Trump, compassion seems less important than political gain. Only a few hours after his statements on the attack, he tweeted:
Apparently, Trump would rather retweet praise of himself than express solidarity with Turkey. By making the death of dozens of people about his desire to be president, he shows how unfit he is to represent America's ideals.