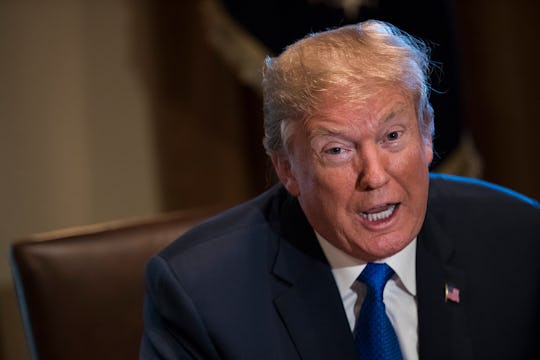 Drew Angerer/Getty Images News/Getty Images
Donald Trump's Twitter Account Was Deleted For 11 Minutes & People Were Rejoicing
If you happened to visit President Donald Trump's Twitter account during a certain 11-minute window on Thursday, you were likely in for a bit of a confusing surprise: his account had temporarily disappeared. It turns out that Donald Trump's Twitter account was deleted by a rogue Twitter employee on his last day working at the company, and the general reaction on social media has been that said employee deserves a medal for giving the world a brief reprieve from the president's relentless tweeting habit. But while it's easy to joke about, the reality is that, well, it's also majorly unsettling. Because the fact that it's so easy to tamper with the POTUS' favorite method of communication is a pretty big deal.
Although Twitter initially responded by saying that the incident had been an accident, and a matter of "human error," the company revealed that, actually, it hadn't really been an accident at all. According to The Independent, the social media giant later tweeted that the president's account was deleted "by a Twitter customer support employee who did this on the employee's last day," leading many social media users to applaud the employee for what may have been the most epic "I quit" mic drop in history. But as others have rightly noted, Trump's Twitter account is basically his mouthpiece to the world. And even though the temporary deletion might seem like the ultimate prank, it also says a lot about the very real security issues involved with the President using Twitter to communicate.
The president's Twitter account went down at approximately 6:45 p.m. ET Thursday, according to The Washington Post, and it wasn't long until its absence was noticed. That's because users looking for Trump's account — arguably the most important account on the social media network — were greeted with a message saying that the @RealDonaldTrump page didn't actually exist:
It was quickly restored though, and on Friday, the president tweeted about the incident, suggesting that it proved that his words were "having an impact."
Judging by the Twitter reaction though, it's clear that not everyone agreed with the president's assessment:
And by all accounts, it was a pretty momentous event:
But here's the thing: Trump's twitter account isn't just a benign feed of ramblings and opinions. As CNN has noted, Trump's tweets are literally official White House statements. Twitter is how the president communicates, and his messages (even when they're incoherent, "Covfefe"-esque updates) have a huge effect. Twitter allows the POTUS to make announcements offer responses in real-time with zero filter or presumably any pre-vetting whatsoever. Yet, for 11 minutes, a random Twitter employee was able to take him offline in what appears to be a pretty epic gag.
Taking down the account may not have caused any actual damage, but as Business Insider's Alexei Oreskovic noted, it could have gone very differently. What if the employee in question had a more specific political motive, and opted to send out a damning tweet that appears to have come from Trump himself? Or if the employee had tweeted an inflammatory tweet about North Korea?
It's not known, of course, if that would have been possible — perhaps the employee only had the ability to shut the account down and nothing more. But it speaks to the reality of what's really at stake here, and ultimately, why the fact that the president chooses to use social media as his main communication tool should be considered concerning, not eye-rollingly amusing. Like it or not, Trump's tweets matter. Yet at a time when alleged Russian hacking may have literally altered the outcome of an American presidential election, Thursday's temporary deletion shows the incredible lack of security surrounding Trump's social media habit.
It is pretty funny that a Twitter employee used his last day at the company to take down the president's feed, and the resulting tweets have made for pretty entertaining morning reading. But it should also be a reminder that Trump's decision to use Twitter for official communication purposes can have serious consequences, and that if nothing else, his account at least needs to be secure.