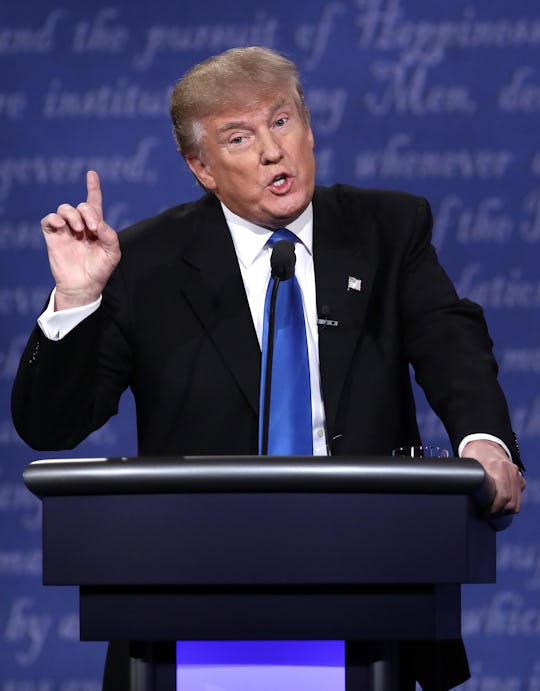 Win McNamee/Getty Images News/Getty Images
Donald Trump's Website Crashed During The Presidential Debate At The Worst Moment
Talk about bad timing. Donald Trump's website crashed during the presidential debate and people at home definitely noticed. Although DonaldJTrump.com was only temporarily down, it was on the heels of when he told millions of people watching the debate to check it out for more information about his platforms.
This wasn't the first time Trump's website went down at a crucial moment during his campaign. Back in January, hackers claimed responsibility for taking down the digital home of the Trump campaign for a few hours. More recently, people who tried to access Trump's website in August were greeted with a message that said there was an "unusually high volume of traffic" and could not load. Now it seems Trump's team didn't get their server issues worked out before his biggest primetime moment to date, the first presidential debate of the general election. Unlike last time, there wasn't even a message offering explanation this time, just a blank screen.
As for the cause of the blackout, Politico reported a hacker group tweeted before the debate that they were getting "set up" for the night, but they did not claim responsibility for Trump's website snafu. It seems more likely it was due to the high traffic Trump sent that way right beforehand.
Fortunately for Trump, the crash was only momentary — but it was long enough for people to take notice and start the mockery on Twitter. During the same time, Hillary Clinton's website was functional, complete with the fact-checking tool she promised during the live debate.
Several even seemed to take it as a metaphor for Trump versus Clinton and how they are able to deal with the stresses of the presidency.
In the past, Trump's campaign painted his website going down as a positive thing. As previous messages when the traffic was too high said, "We're honored that so many people want to show their support to help #MakeAmericaGreatAgain!" His supporters also didn't seem too upset by the momentary lapses, with one telling Red State Watcher when the site crashed in August, "So much traffic his server froze I will donate again in the morning." And, as for the effects it had on debate night, well, it got more people talking about the website and checking back at a later time, didn't it?
As the debate continued, Trump's website seemed to stabilize — although the same cannot be said for the effects the night's debate will have on the election.