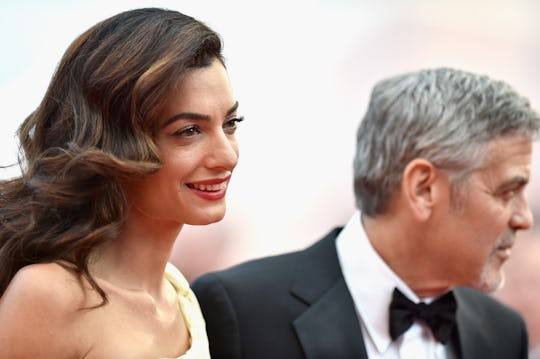 Pascal Le Segretain/Getty Images Entertainment/Getty Images
Don't Applaud Amal Clooney For Choosing "Normal" Baby Names
On Tuesday, international human rights lawyer and wife of George Clooney Amal Clooney gave birth to twins, a boy and a girl. In a statement, the Clooneys' publicist said: "This morning Amal and George welcomed Ella and Alexander Clooney into their lives. Ella, Alexander and Amal are all healthy, happy and doing fine. George is sedated and should recover in a few days."
The Internet responded not only by celebrating the birth of Ella and Alexander, but also by applauding how "normal" the twins' names seemed, especially in comparison to other celebrity baby names like Apple Martin (the child of Gwyneth Paltrow and ex Chris Martin) or Blue Ivy (the daughter of Beyoncé and Jay-Z). People seemed to be patting the Clooneys on the back simply for giving their children conventional names.
It's true that Ella and Alexander are popular names: according to Babycenter, Ella is currently the 12th most popular girl's name in the United States, while Alexander is the 16th most popular boy's name. (Those numbers are likely to rise even more following the birth of the Clooney twins.) But while comments from Twitter users about how nice and normal the twins' names are might be well-intentioned, the flip side of those comments is also clear: other celebrities choose names for their kids that are wacky or abnormal. And that's not OK.
As most parents know, name-shaming is a real thing that new parents deal with on a daily basis, particularly if they give their baby a name that isn't on the top 50 American baby names list. There are endless articles on the internet warning parents of the dangers of choosing "creative" baby names for their kids, even implying that such names can lead to their children being bullied or developing lifelong low self-esteem. So when people make comments about how "unique" or "different" a name is, they're effectively saying the name you chose for your kid is weird, and your kid is going to be weird for having it.
When they're naming their babies, parents have an enormous task: they have to pick a name that their child will carry with them throughout the rest of their lives. For that reason, naming a child can be an agonizing experience, when it should be nothing but exciting.
The truth is that most parents do not take the process of naming their children lightly. They give their babies the names they do for a good reason. A celebrity who gives their child a name that appears unusual or unconventional on the surface might be paying homage to a beloved deceased relative, or to a book or movie that has deep personal significance to them. (Beyoncé, for instance, has hinted that she named her daughter Blue Ivy after a passage from a 2005 novel, even though many people criticized the name after she was born.)
Naming a child is a deeply personal process, and it's one that should be between the parents. But just like so many other parental matters, people have trouble keeping their opinions about baby names to themselves — particularly if those baby names belong to the children of celebrities.
By applauding the Clooneys for choosing such "nice" and "normal" names, people are inadvertently saying, whether they mean to or not, that other celebrity baby names are abnormal or ridiculous. And while Alexander and Ella are lovely names, so are any number of other names that parents choose for their kids.