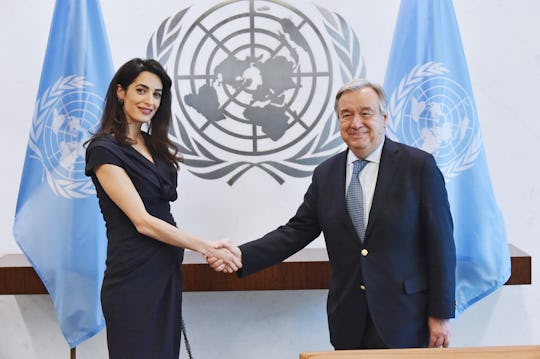 Mike Coppola/Getty Images Entertainment/Getty Images
Don't Forget About George Clooney's Wife, Everyone!
Today, the world was forever changed. The hottest silver fox in Hollywood, George Clooney, officially became a father to twins. Previously thought to be a life-long bachelor, Clooney shocked the world when he took a wife back in 2014, and women everywhere collectively wept. And now, it seems that the 56-year-old actor's life will change yet again. (Also, hey, don't forget about his wife, Amal Clooney, a famed international human rights lawyer and all-around badass who also was a part of the process, I guess.) This morning, in a gold-plated penthouse hospital room, Clooney sat, sweat dripping down his perfectly-coiffed hair, knees weak, arms spaghetti or something.
The movie star was nervous, anxious. There's nothing easy about being a new dad and witnessing the miracle of life from a nearby chair or sometimes next to a hospital bed. Hopefully, he's starting to recover from his dramatic morning, in which is wife, actual superhero and Amazon warrior Amal, literally pushed out two giant, crying melons from her body.
Yes, today, June 6, 2017, two more Clooneys arrived. Twins Ella and Alexander have already brought so much goodness into the world, just like their dad, who has naturally sparkling eyebrows and immaculate teeth. And also their mom, who once represented Julian Assange and politely told the U.N. "no thank u" when they asked her to be on a three-person commission investigating possible rules-of-war violations in Gaza.
Thankfully, after all that hard work, "George is sedated and should recover in a few days," according to a rep for the couple. Amal is either already back to work trying to bring justice to wrongly imprisoned international journalists, or, like, taking a nap. (I mean, I guess she deserves it.)
And honestly, thank goodness. Can you just imagine what poor George has been through these past few hours? Having to stop everything to rush to the hospital, cancel his 10:30 a.m. teeth-whitening, and then to have to just sit there and wait while Amal took her sweet time pushing two humans out of her body? I, for one, am shocked that he made it through such trying times.
Amal, the 36-year-old new mom, has had her own fair share of hard times. Her family fled Lebanon when she was just 2 years old, resettling in Buckinghamshire while the Lebanese Civil War waged on. Still, she managed to make it through years of law school to get to where she is now: a widely successful international lawyer, and, most notably, wife of George Clooney, duh.
Today, super-human Amal has added another accomplishment to her resume: giving birth to a beautiful set of twins, who will hopefully take after George with his incredible talents — like being able to make you think Oceans Twelve was a good film — and maybe a little bit after their mom, who is basically a goddess, I suppose.
This article is satire. The author recognizes that Amal Clooney is clearly more than just someone's wife, and does not, in any way, believe that her only accomplishment is having twins, nor that George had to cancel a 10:30 a.m. teeth-whitening. As far as we know.