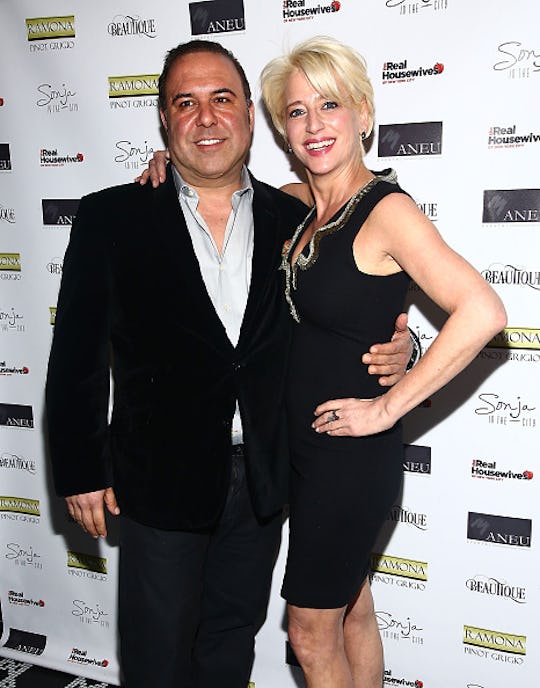 Astrid Stawiarz/Getty
Dorinda Medley & John Mahdessian's Cutest Moments Prove They're In It For The Long Haul
There is never any shortage of relationship drama on The Real Housewives of New York. From Ramona Singer's divorce from Mario, to Carole Radziwill's apparently controversial boyfriend Adam Kenworthy, the Housewives have never had a problem saying exactly what they think about their fellow Housewives various paramours. But, while Carole and Adam getting together was only a problem for Countess Luann de Lesseps, a lot of people seem to have a problem with Dorinda Medley's boyfriend, Sultan of Stains, John Mahdessian. Though their relationship drama looks like it's going to be the major storyline of the season, these cute moments from their social media prove that John Mahdessian and Dorinda Medley are in it for the long haul.
Previews for the May 11 episode show yet another bump in the road for the pair, as they get into a nasty fight in a restaurant, and Ramona makes a typical Ramona-esque slip up at the ladies' psychic reading in Carole's home. The psychic says that if Dorinda does marry again, it won't be to John. And Ramona, perhaps speaking for all of us, blurts out, "Thank God!" and unconvincingly claps a hand to her mouth as though to say, Steve Urkel-like "Did I do that?" Oh, Ramona. Never change. The comment doesn't sit too well with Dorinda, who eventually will snap back at Ramona, referencing Mario, "Oh that's right, he left you for someone else." Oof.
Despite the growing rift between Dorinda and her friends, she appears to plan to make like a country song and stand by her man.
Dorinda captioned this dreamy beach snap "#LoveIsLove" which appears to be her not-so-subtle way of telling the other women to back off. I mean, as much as we love Dorinda, she's never been celebrated for subtlety.
Dorinda may have a pretty well-balanced Instagram, but John rarely posts without a picture of his main-squeeze. Here the two are as lovey-dovey as ever, and have apparently been enjoying some delicious food.
They may be city slickers, but Dorinda and John are not afraid of a little adventure, as we can tell from all this zip-lining gear.
The couple even went on a cruise together which, in my humble opinion, has got to be the ultimate expression of love. If you can trust this person enough to be trapped on a boat with them for however long when the only escape is to literally swim home, you're basically destined for one another.
So like it or not, Ramona, these two are sticking it out.