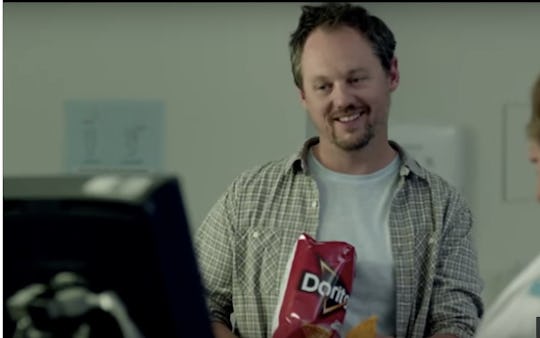 YouTube
Doritos Super Bowl Ad Shows Chips Inspiring Premature Delivery, & People Aren't Sure How To Feel About It
Doritos always comes through with great Super Bowl ads and this year's was no different. Rather, this year, the company's big spot got people talking — just maybe not in the way that it had hoped. This year's Doritos Super Bowl ad showed the chips instigating a premature delivery during a sonogram ... and it was just a little weird. Thankfully, the Internet (more or less) seemed to enjoy it anyway.
In the spot, the baby's father is seen eating chips while his wife is getting a sonogram. Every time the chip gets close to the mother's womb, the nervous parents and doctor notice the baby struggling to get out. The mother, unsurprisingly annoyed with her husband, then tosses the chips, causing the baby to fly out of the womb.
That's it, really. It wasn't exactly funny, nor was it gross. It was just a little odd. But overall, people on Twitter thought the commercial was "hysterical." One person went all the way, writing that the "Doritos commercial of the the baby in the womb was absolutely fantastic." Others weren't very impressed, with one user writing that "heated debates" would ensue because of the ad.
Perhaps that's not that the ad was crazy offensive, just that it seemed to play to the most base kind of humor. The man, stereotypically clueless; the woman, totally cranky. A baby basically ejecting itself out of its mother is sort of crass, right?
Some People Didn't Get It:
Others Began Comparing The Doritos Baby With The Mountain Dew Puppymonkeybaby:
Still, Others Thought The Ad Was A Winner
Doritos' ads are usually picked by fans through the company's Crash the Super Bowl contest, where fans select their favorite ad from a handful on the Doritos website before the big day. Basically if you didn't think this year's ad was funny, you might want to try to vote next year.