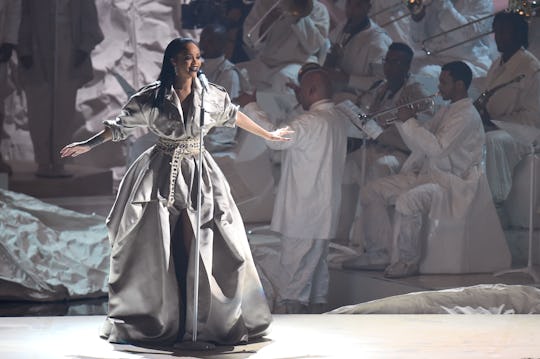 Michael Loccisano/Getty Images Entertainment/Getty Images
Drake Presents Rihanna With Her Video Vanguard Award & It Was All Romance
After she performed intermittently throughout the MTV VMAs and kept the show moving along, Drake presented Rihanna with her Video Vanguard Award and it was the cutest moment ever. Drake is cool. Rihanna is awesome. Together? They are the best (alleged) couple ever. Watching Drake gush over her and give her an award for basically killing it all of these years will probably break your heart. But it wasn't just imaginary emoji hearts and kissy faces swimming around them on stage that made the moment. Their chemistry is legit, for sure, but Drake actually respects Rihanna, and watching a grown man give credit where credit is due is always a good thing.
He talked about her career and gave her props for doing it all just by being herself. Drake said that he looks up to her and even admitted that he's just as madly in love with her as everyone suspects him to be. He said, "She's someone I've been in love with since I was 22 years old." In true Rihanna fashion, she rolled her eyes and laughed. They aren't a perfect match at all — Rihanna can do better than a guy who gets stuck in traffic before the VMAs — but there's something there.
The cutest thing is that Drake is madly in love with Rihanna and it's hard to tell if she cares or not. This weekend, the Canadian rapper took out an entire billboard to congratulate her on winning the VMA Video Vanguard Award and getting to perform for basically the entire night. The billboard read, "Congratulations to Rihanna from Drake and Everyone at OVO." Later, Rihanna posted a picture of the billboard to Instagram, captioning it, "when he extra," with a little heart.
The two have something going on, even if it isn't romantic.
The two have worked together extensively and have been rumored to be on again, off again somethings. Rihanna usually plays it down, also saying that they are just friends. And they probably are. This summer, they've been spending a lot of time together again. A source recently told Entertainment Weekly, "He still loves her and never stopped. Rihanna is the one that's been not wanting to settle down in the past. They are having fun spending time with each other. Their music together got them close again."
Whatever brings them together seems to be working. There was a lot of love and respect on that VMA stage Sunday night.