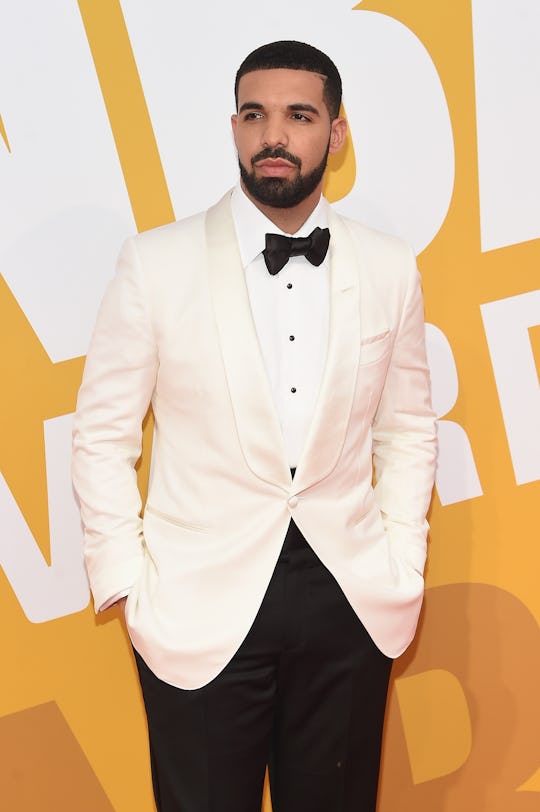 Jamie McCarthy/Getty Images Entertainment/Getty Images
Drake Reveals He's A Dad On His New Album, & OMG
Rumors have been swirling that Drake had secretly fathered a son with Sophie Brussaux since rapper Pusha T called him out a month ago in his diss track, "The Story of Adidon." But now, we no longer have to wonder if it's true: Drake revealed he's a dad on his new album Scorpion, according to People, and now it sounds like he's finally ready to tell his side of the story.
Scorpion came out on Apple Music just before midnight Thursday, and some of the lyrics are particularly revealing. On his track, "March 14," Drake says, "She's not my lover like Billie Jean but the kid is mine," and admitted that he and Brussaux "only met two times," and that he "had to come to terms with the fact that it's not a maybe" after a DNA test confirmed the little boy was his. He also admitted that his son's birth was tough to grapple with given the fact that he'd always swore to his mom that he wouldn't end up as a single dad, and said,
I used to challenge my parents on every album/ Now I'm embarrassed to tell them I ended up as a co-parent/ Always promised the family unit/ I wanted it to be different because I've been through it.
But that wasn't the only time Drake came clean about the situation on Scorpion. On the track, "Emotionless," Drake fought back against the idea that he was keeping his son — who was born in October — a secret. On "The Story of Adidon," according to Pitchfork, Pusha T said "You are hiding a child, let that boy come home." But Drake has now insisted he wasn't trying to hide his son, but protect him. He said,
I wasn't hiding my kid from the world/I was hiding the world from my kid/From empty souls who just wake up and look to debate/Until you're starin' at your seed, you could never relate.
And on "8 Out of 10," Drake also hit back at Pusha T's claim that he is a deadbeat dad to his son, according to Vulture, and said,
The only deadbeats is whatever beats I been rappin' to/Never a matter of could I or should I/Kiss my son on his forehead and kiss your ass goodbye/As luck would have it I'm settled into my role as the good guy.
Yet much as it seems like Drake fans were hoping he'd address Pusha T's claim about him having a son, it seems like the fact that he actually did it caught a lot of people off guard:
As eye-opening as those tracks are though, it seems like Drake has a lot to say right now — Scorpion has a whopping 25 tracks and runs for 90 minutes. In addition to opening up about his son, Drake also uses Scorpion to explain that he made a conscious choice not to address his beef with Pusha T this time around, according to Vulture, realizing it could lead to actual violence ("I've seen this movie a hundred times, I know where it's headed/Realize someone gotta die when no one will dead it"), and even seems to have maybe confirmed a fling with model Bella Hadid. But, judging by the social media reaction to the album, well, it sounds like his fans are totally here for all of it:
Even if they weren't though, Scorpion seems to be Drake's way of setting the record straight and communicating in the way he knows best: through his music. Although he could have easily responded to the claims about his son's paternity when they actually happened, by waiting to discuss it on his album, he was better able to make sure he was in control of exactly how it was said. And hopefully now that the rumors can finally be put to rest, Drake can focus less on the haters, and more on simply being the kind of dad he wants to be to his little boy.