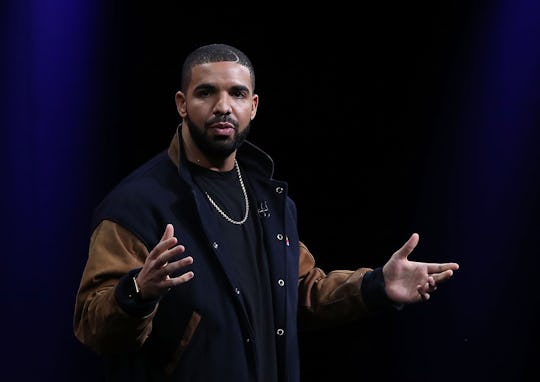 Justin Sullivan/Getty Images News/Getty Images
Drake 'Views' Memes Brilliantly Photoshop Mini Drakes Onto Everything
After weeks of hype and build-up, Drake dropped his latest album Views, which used to be named Views from the 6, on April 29. Unlike seemingly everyone, he didn't go the TIDAL route, but instead he made it instantly available on Apple Music, iTunes, and pretty much everywhere else. You'd think the Internet would repay the favor by congratulating Drake on a great album. Well, that kind of happened. Fans have given it good reviews, but it's also inspired some hilarious, gutting memes. In fact, Drake Views memes are some of the best the Internet has seen for quite a while.
According to XXL, Drake designed the album to mimic the change of seasons. He said he wanted it sound like "winter to summer and back to winter again." Whether he did that is up for debate, but what isn't is the great cameos he was able to snag for the album. It features collaborations with Rihanna, Pimp C, Future and more. Despite pretty mixed reviews from critics, fans have been shelling out to add Views to their collection. It's downloads are nearing Adele-like levels, and it went platinum in just six days.
As for the memes, who knows what started them. Drake is notoriously meme-worthy. Something about his earnest Canadian-ness, his Degrassi beginnings, his turtlenecks, his dance moves, his lyrics, his music videos — that makes him very easy to joke about. The ridiculous album artwork on Views just adds another layer to that already rich meme fodder. When you've got fans like these, who needs enemies, right Drake?
Drakes arch-nemesis, rapper Meek Mill, was wrapped up in the meme-fest as well.
Justin Bieber could help himself. He had to jump on the Drake meme bandwagon. He looks pretty stoked to have a little Drake on his shoulder.
Savvy marketing professionals struck while the iron was hot and got some sweet product placement. The good people at the Cheesecake Factory wasted no time getting in on the Drake meme craze after Drake mentioned the restaurant in "Child's Play". They're bringing a tiny cheesecake to tiny Drake ASAP.
This helpful Cheesecake Factory follower took their idea one step further and made them an even better cake-y meme.
The Cheesecake Factory wasn't the only business to get some free exposure. Tim Hortons popped a little Drake on one of their fine establishments and, boom, instant viral fame.
Drake can also be educational. He made it onto this book cover!
The caption of this one is on point. Drake's even wearing a tiny Darth Vader mask.
What this stream needed was more puns. Thank you, cat-loving meme-maker who brought us "mews from the 6."
Yes, that's right. Fans can now save themselves the hassle of hand crafting a meme and instead use this handy-dandy Drake Views Meme Generator. It will put a little Drake wherever your heart desires. Hours and hours of fun for the whole family are sure to follow.
And, finally, THIS: