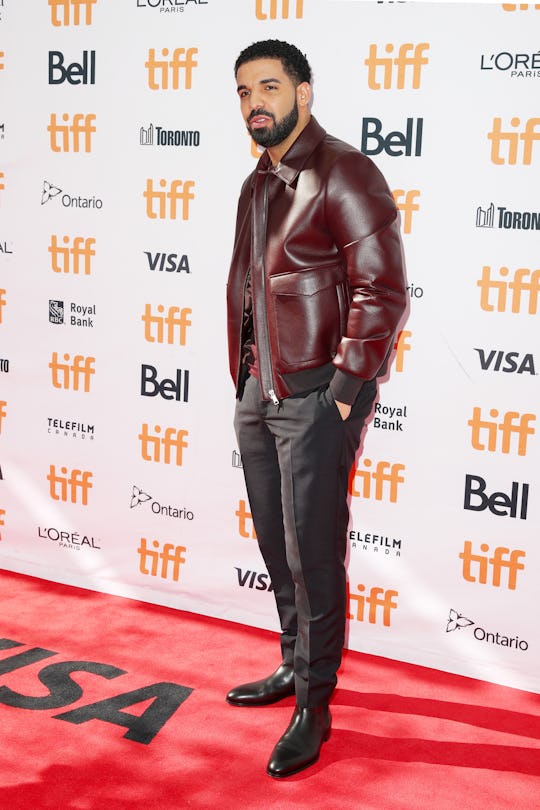 Joe Scarnici/Getty Images Entertainment/Getty Images
Yes, Drake Has A Son & He Might Be Named After A Greek God
Drake's new double album, Scorpion, dropped on Thursday night, and with it came a revelation: Drake has a son, confirming all the rumors that have swirled the past few months. And to top it off, Drake's son is allegedly named after a Greek god. Subtlety, am I right?
Drake reportedly confirmed that he is a father on the fourth track off his new album, according to Vibe. On the song "Emotionless," Drake raps about hiding a child from the world, and even says, "the kid is mine" at one point on another track on the album. So unless this is a really intense concept album, it's fairly safe to say that the speculation about Drake allegedly having a kid are probably true.
A representative for Drake did not respond to Romper's request for comment at the time of publication.
Forbes noted that the timing of the album's release, not to mention the hype surrounding this revelation about Drake's personal life, was perfectly scheduled — the album dropped just in time for the rapper's 40-plus date Aubrey and the Three Migos tour, which kicks off on July 26 in Salt Lake City. There's really nothing like releasing some new music to get fans excited for a tour.
So why is Drake allegedly having a son such a big deal, anyway? Because about a year ago, a woman named Sophie Brussaux claimed she had text messages proving Drake fathered her son, and that she had found a lawyer to have a paternity test done, according to E! News.
At the time, representatives for Drake told the outlet, "If it is Drake's child, which he doesn't believe it is, then he would do the right thing by the child."
But if the new song "Emotionless" is to be believed, Drake does, in fact, have a kid, and that kid has big shoes to fill. Not because he's Drake's son, although that is obviously a big deal, too. Drake's alleged son is supposedly named Adonis, according to Vulture.
In Greek mythology, Adonis was the god of beauty and desire, according to GreekMythology.com. Clearly, the name itself a lot to live up to.
More recently, rapper Pusha T referenced the alleged baby Drake fathered on a song of his own, "The Story of Adidon," according to Pitchfork. One of the lines in the song is, "Adonis is your son," hence where these name rumors are coming from.
Maybe after the months of rumors, and the allegations being brought up again, Drake finally felt the need to address the issue through music. He seemed to talk directly about his son on the song "Emotionless," when he rapped, according to Vulture:
Look at the way we live / I wasn't hiding my kid from the world, I was hiding the world from my kid.
From empty souls who just wake up and look to debate / until you staring at your seed, you can never relate
Breaking news in my life, I don't run to the blogs / The only ones I wanna tell are the ones I can call / They always ask, 'Why let the story run if it's false?' / You know a wise man once said nothing at all.
And there were other instances on the album where he referenced his child, too. On the album's closing track, "March 14th," Drake rapped, according to Consequence of Sound:
Yesterday morning was crazy, I had to come to terms with the fact that it's not a maybe / That shit is in stone, sealed and signed / She not my lover like Billie Jean, but the kid is mine.
And later he added:
It's breaking my spirit/ Single father, I hate when I hear it / I used to challenge my parents on every album / Now I'm embarrassed to tell 'em I ended up as a co-parent / Always promised the family unit / I wanted it to be different because I been through it, but this is the harsh truth now.
While those lyrics don't seem to confirm that the baby's name is definitely Adonis, in addition to his song about the situation, Pusha T once said of Drake, according to PEOPLE:
Allegedly his new line on Adidas is called Adidon, which is named after Adonis, his son.
If Drake's alleged child really is named Adonis, it's definitely a unique, strong moniker that will hopefully serve his son very well.