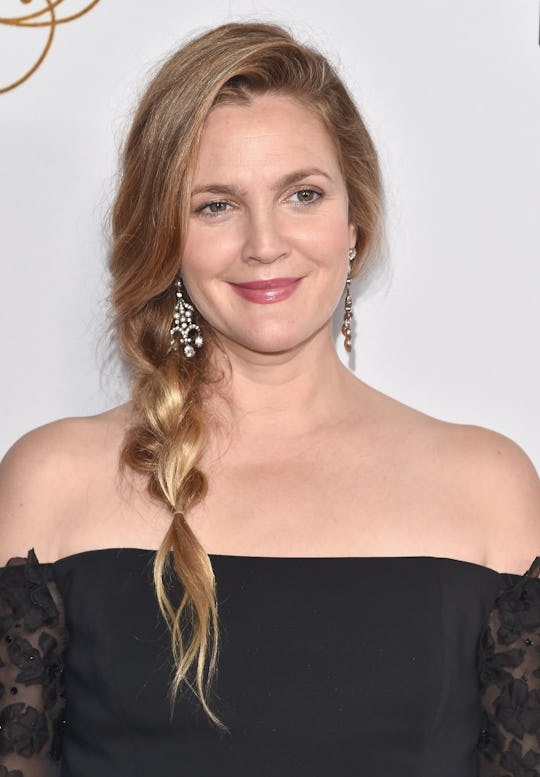 Alberto E. Rodriguez/Getty Images Entertainment/Getty Images
Drew Barrymore Says Parenting After Divorce Is About Planning & Prioritizing Family
Actress Drew Barrymore seemed to have found her perfect match in Will Kopelman, so it was a total bummer when they announced their separation after four years of marriage earlier this year. But they definitely sound like friendly exes, which is great news for their two daughters, Olive and Frankie. At a children's hospital gala in Los Angeles Saturday night, Drew Barrymore said parenting after divorce is about planning and family, and explained she still enjoys a close relationship with Kopelman's parents, according to Entertainment Tonight. Although her marriage to their son may not have lasted, Barrymore said that the fact that her in-laws still go out of their way to include her is a really big deal:
I feel honored that my children's grandmother — her love and acceptance means the world to me. I don't know, you just be a family ... [There are] many different definitions [of family] in this day and age.
One example of Barrymore's post-divorce planning skills? Her girls will take part in three different Halloween events this year. And that's pretty awesome news far as Barrymore is concerned — she called the holiday "the best day ever," and revealed that her girls were going to be "a witch and a dragon."
Barrymore has been open in the past about how much she fell in love not just with Kopelman, but with his entire family. In the April issue of Good Housekeeping (which came out shortly before the couple announced their split), Barrymore said,
I don't think there was one moment when I knew I wanted to spend my life with Will. It was a sweeping, fluid process. It was falling in love with his family, being ready to have a family of my own and thinking if I had a family with this family, it would be really wonderful. Sometimes there's just a time to go for it with a good person.
That sentiment still seems to remain now that the couple is no longer married. In addition to the good relationship she still has with her former mother-in-law, Kopelman's sister, Jill Kargman, told Page Six in August that Barrymore will always be her "sister for life." And in her memoir, released earlier this year, Kargman vowed her love for Barrymore would endure:
Even though [Drew] and Willie went splitsville just as this book was going to print, we are forever sisters. Bottom line: She is a Technicolor flower child bouquet of a person, and a welcome kaleidoscope of hues that infused our Addams Family with optimism and light.
Another encouraging sign that Barrymore and Kopelman are totally owning their amicable divorce? The complete absence of a court battle. According to The Daily Mail, the couple's divorce was uncontested, with no dispute over assets or custody, and was complete in just three weeks — no hearing required.
Hearing a freshly-split celeb couple talk about wanting to stay friends and prioritize their children's well-being is pretty common. But in the case of Barrymore and Kopelman, it sounds like they really meant it. After all, if you can't stay married, figuring out a way to redefine your family to make sure it's still just as full of love as it was before has to be the next best thing, right?