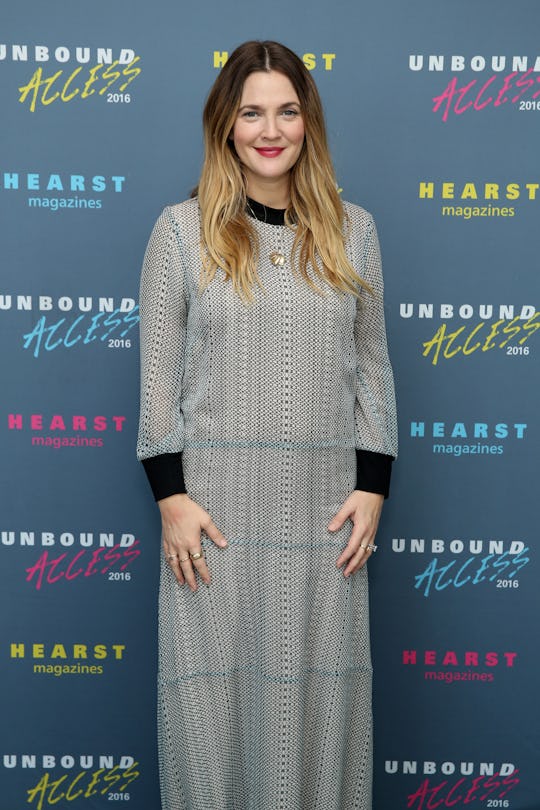 Cindy Ord/Getty Images for Hearst
Drew Barrymore Shares Postpartum Depression Struggle, & It Should Encourage More Women To Speak Up
In 2001, Marie Osmond put postpartum depression on the map when she published her memoir Behind the Smile: My Journey Out of Postpartum Depression. In it, Osmond share her struggles with depression following the birth of her youngest, Matthew. But she did more than simply share her experience. She put postpartum depression in the public eye — thanks to her celebrity status — and inadvertently helped women with kids and soon-to-be mothers everywhere. And she wasn't the only one: Carnie Wilson spoke about her battle in 2005, Gwyneth Paltrow openly discussed her PPD in 2006, and Brooke Shields published Down Came The Rain: My Journey Through Postpartum Depression, much to the dismay of fellow Scientologists. Just last month, Drew Barrymore announced she struggled with postpartum depression. On October 13, Hayden Panettiere entered a treatment center for her postpartum depression.
But in homes across the country, women don't talk about their postpartum depression as seamlessly or as often as celebrities do. In hospitals, nurses don't discuss it. And while it may be mentioned by doctors, midwives, and lactation consultants, postpartum depression is still seen as an afterthought — and it's rarely the focus of prenatal or postpartum appointments.
With perinatal mood disorders affecting 15 percent of all women from all walks of life, why aren't more women speaking about it? Why do we only hear about the Gwenyths and Haydens and Drews postpartum? Why don't we hear more about our own?
Because of the shame. Because of the stigma. Because motherhood — especially new motherhood — is supposed to be the "best time of your life," and when it isn't, we feel like absolute garbage. We feel like the worst women in the entire world (and we believe no one else could possibly feel this way, or could have possibly thought these thoughts). We feel like we did something wrong. Like this is our fault. We feel alone. Isolated. 
I am a wife, a writer, a long-distance runner, and the mother of a sassy, smart, and oh, so cute little girl. I was ecstatic when I found out I was pregnant, and I was fortunate: I had a picture perfect pregnancy.
But I struggled with severe postpartum depression — paralyzing postpartum depression — for 16 agonizing months.
I was an emotional wreck. I cried three, four, and five times a day. (I'm not talking sniffles here; I am talking a full on, "can't catch my breath" style meltdowns.) I became angry; hell, I was enraged. I lost all sense of myself. I lost sight of the woman I was, and the mother I wanted to be. Instead I became nothing more than a mess of irrational and chaotic thoughts: anxious thoughts, all-or-nothing thoughts, suicidal thoughts. Having a history of depression, I knew what was happening, but I still struggled to talk about it. I still struggled to share my experience with anyone I didn't even confide in my husband, my mother, or my best friend. I couldn't bring myself to ask for help.
Why?
Like it or not, there's a stigma around all mental illnesses. There's the implication that it's all in your head; the misconception that you should be able to "just snap out of it," and the belief that whatever is happening is somehow your fault. Somehow you've caused, and you're perpetuating, your illness for sympathy, empathy, pity, or love.
The greatest stigma may not come from a misunderstanding of mental health, though. It's generated by the myth surrounding motherhood; the myth that becoming a mother is the greatest moment of your life, that everything is sunshine and rainbows, that leaky nipples, spit up, and sleepless nights are something to look forward to; that you should cherish every minute of every day because time flies by, and if you dare blink, you'll miss it. 
Motherhood has become the best thing in my life, there's no doubt about that. But in the beginning, it wasn't. I didn't feel an instantaneous connection with my daughter, and my heart didn't swell with love. Instead, it fractured — thanks to an insidious disease and the feeling that I wasn't enough. I was too scared to admit what I was feeling because logic told me I was lucky. Logic told me I should be just be thankful. Logic told me I should be happy.
In truth, I felt like a failure. I felt like a terrible mom. I felt like a bad mom.
I felt like I didn't deserve to even be a mom.
So when women like Drew, like Gwyneth, like Hayden, like Marie Osmond, and Brooke Shields speak out on their experiences with postpartum depression, it gives me hope. Hope that more women will come forward, and not solely due to their celebrity status, but because as new and veteran mothers, they know there's nothing wrong with admitting it's not all going according to plan. They know it's OK if you don't love your little one immediately. They know it's OK not to feel OK. 
It's hard to talk about postpartum depression when you know you're in the thick of it. It's even harder to talk about it when you don't. Maybe that's what makes it so much easier for celebrities to do the talking. They have the means, the money, and the resources to get out and to get help. Most women don't. But nothing bad ever came from women speaking up. Nothing bad ever came from asking for more, from demanding more; nothing negative happens when women advocate for each other. So keep talking. Even if it's ugly, even if it hurts. Keep talking. We hear you.