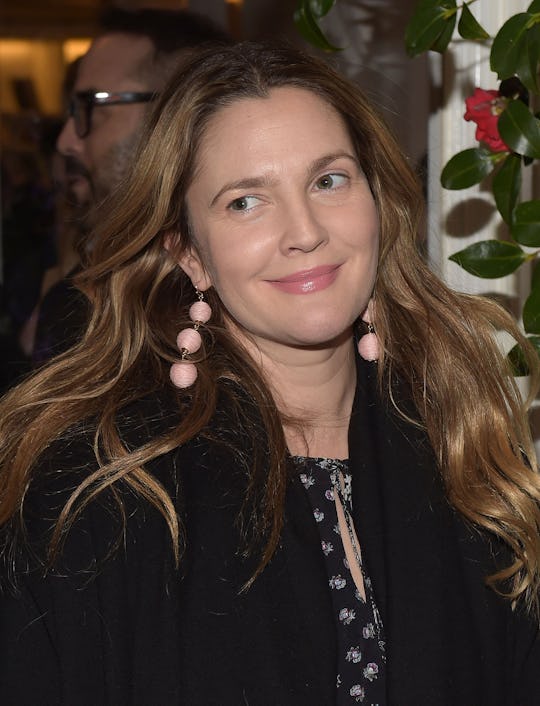 Jason Kempin/Getty Images Entertainment/Getty Images
Drew Barrymore Shares Cutest Pic Of Her Daughter
Even though Drew Barrymore has been famous for pretty much her entire life, she still somehow always seems like she'd be totally down-to-earth if you ever got to hang out. Case in point? The actress and beauty mogul took to Instagram for #beautyjunkieweek Friday, and instead of raving about high-end luxury products, Barrymore chose instead to focus mostly on affordable finds, and advocated for a more natural approach to beauty (the 41-year-old actress also wrote that she hasn't yet "used fillers or tricks" to stay youthful). But it wasn't just about cosmetics and creams: Drew Barrymore's daughter wore her mom's high heels in one of Barrymore's Instagram pics Monday, and in the photo's caption, Barrymore wrote that the photo was a reminder of what beauty really means to her.
Judging by her recent Instagram posts, it's clear that Barrymore really is a beauty junkie — she has shared lots of photos of her makeup bags, medicine cabinets, products and tools, proving that she's certainly no minimalist. And her tips have been pretty great, too: it turns out that she swears by Clinique face wash and Aquaphor lotion, and is also a face and hair mask devotee. But none of it compares to the version of beauty Barrymore says she finds in her daughters, 4-year-old Olive and 2-year-old Frankie — especially when she has a chance to see Olive dressing up in her shoes, and taking the chance to be "a girl flirting with felling pretty."
Even though Barrymore admitted that the post "might seem like a cheat" given that #beautyjunkieweek posts were supposed to be about products or beauty tips, she wrote, "This is beauty to me. My sweet Olive in my shoes." And it definitely seemed like a fitting way to honor her eldest child, whom Barrymore said is beginning to become much more independent, especially with her clothing choices.
In a January interview with People, Barrymore said that realizing that Olive no longer needed her mom's help to get dressed felt pretty strange:
This morning I was running late, and I was like, 'Olive, can you get yourself dressed? And I'll get Frankie, and we can all leave for work together.' Just being able to say that sentence is very surreal: 'Can you go get yourself dressed?'
But, like most preschoolers, Olive hasn't exactly figured out her style. Of her daughter's wardrobe choices, Barrymore said,
Sometimes it's crazy combinations and sometimes it's girly-girl. I think she gets that from me and her dad. Her dad's much more into [her] looking like a little girl and I'm a total tomboy.
While Barrymore doesn't hide her children from her social media accounts, she also doesn't post about them often, and seems to prefer sharing photos that don't show their faces. But whenever she does open up about them, it's clear that she's a totally devoted mom. One topic where that is particularly obvious? Barrymore's comments about her divorce from Olive and Frankie's dad, Will Kopelman.
During a Feb. 2 episode of The Ellen DeGeneres Show, Barrymore spoke about the heartbreak she felt over her and Kopelman's decision to split in 2016 after three years of marriage. According to Us Weekly, Barrymore called her divorce her "worst nightmare," as it signaled not just the end of her marriage, but the end of the "ultra-traditional" version of family that she desperately wanted to give to her kids. But through it all, Barrymore said she realized that she could still find a way to give her daughters what they needed, even if it wasn't how she originally envisioned it:
You can talk until you're blue in the face, but kids watch what you do every single day of your life. All day long. And that behavior and that example and that love and community and honesty is just, I think, what's making everything feel safe for my kids. And that's really the intention I had as a parent.
Barrymore also said that, even though she and Kopelman are no longer together, they are still very much a family — and that that also includes his extended family that remains a part of all of their lives, according to Us Weekly:
I got two families. I went from, like, zero to two and it's a miracle and a blessing, and we do it in a way that I think a lot of other people are probably doing it too and sometimes, again, the road is different than what you tried to make it or what you expected and you just figure it out and figure it out with grace.
That definitely appears to be the case. According to The Huffington Post, Barrymore and Kopelman, their daughters, and Kopelman's mother, sister and nieces, all attended the Women's March in New York City on Jan. 21, with the actress even sharing a pic of Olive on her dad's shoulders, holding a particularly awesome sign that read, "I like unicorns and reproductive health care for all."
Editor's Note: The Instagram post has since been deleted.
Barrymore's original dream for her family may not have worked out the way she hoped it would, but it definitely sounds like she is in a really great place in her life anyway. And most importantly, it also sounds like she's a super loving and encouraging mother to her girls. Not to mention one who will no doubt be totally ready to indulge them once they become old enough to show an interest in raiding their mom's makeup bag.