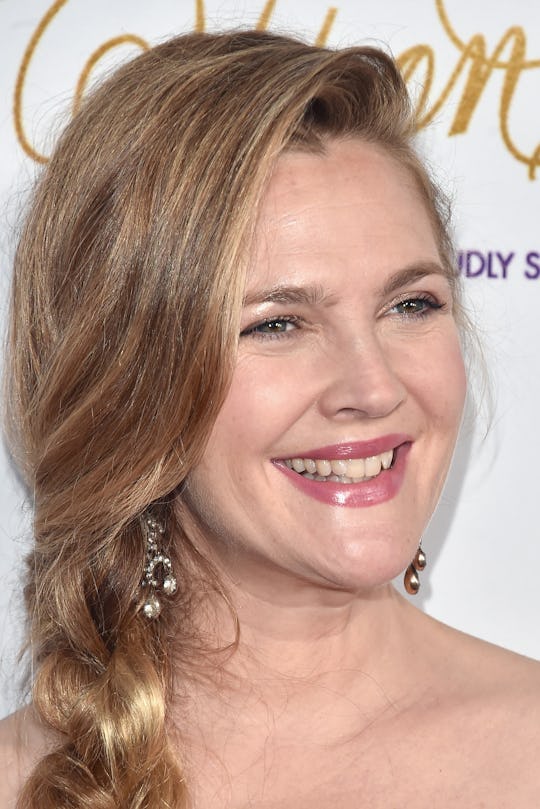 Alberto E. Rodriguez/Getty Images Entertainment/Getty Images
Drew Barrymore Talks Being A Mom At The Globes
As E! News host Ryan Seacrest chatted up stars on the red carpet at the 74th annual Golden Globes on Sunday, actress Drew Barrymore totally slayed it. Baited with a "mommy guilt" question from Seacrest, Drew Barrymore's motherhood comments on the Golden Globes red carpet were the perfect response. When asked about the recent snowstorm that hit the East Coast on Saturday, Seacrest seemed to lay on the "how do you do it all" schtick a bit thickly. Barrymore offered an amazing response, by acknowledging the challenges of being a working mother in one fell swoop — the endless struggle of trying to balance work and kids — but also addressing the importance of being in the moment. Here's her awesome response:
I was in New York in the snowstorm last night 'cause I wanted to maximize time with my children, and I was literally going, like, I have a job to do. But I chose to be a parent first, and I swear to God the priorities paid off my karma. We got on the plane and JetBlue got me here and it was all good. And I got to play in the snow with my kids all day.
Get it, girl. Brilliant.
Even though she almost missed making it to Sunday night's Golden Globes, Barrymore hit the red carpet looking absolutely stunning in a very Gatsy-esque metallic Monique Lhuillier gown and messy-but-upscale waves.
Barrymore is a 41-year-old mother of two daughters, and has spoken openly about her motherhood in the past. Speaking to People Magazine in 2015, Barrymore was candid about not being able to do it all. Calling herself a "workhorse," she admitted that not everything can have 100 percent of her attention as a working mom. And, much like her comments on the Golden Globes red carpet, her kids come first: "I'm a workhorse, I always have been, I always will be," she said. "But work is very much second to my kids."
As a working mom who also dealt with Saturday's snowstorm, I can completely relate. Do I help shovel the driveway? Take my son sledding? Or do I continue to chip away at the never-ending backlog of work emails? Barrymore's candor about taking the time to be in the moment with her daughters is an important reminder for any working mom, deadlines be damned. Sometimes family has to come first, whether there's a Golden Globe on the line or not.