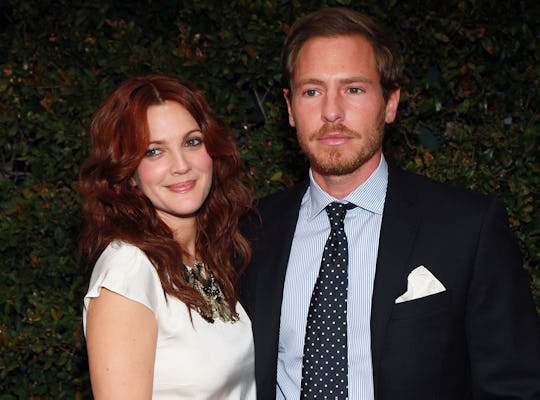 David Livingston/Getty Images Entertainment/Getty Images
Drew Barrymore Wrote A Mother's Day Tribute To Her Ex-Husband
They may no longer be together, but Drew Barrymore and Will Kopelman have clearly remained a tight-knit family. According to Us Weekly, the actress posted a series of Mother's Day snaps to Instagram over the weekend, and while spending the holiday with your ex-husband and his family might not exactly be everyone's idea of a good time, it definitely looks like Barrymore was loving it. So much so, in fact, that she even took the opportunity to publicly praise Kopelman with a super cute selfie of the two of them together. Drew Barrymore's Mother's Day shoutout to her ex-husband might not exactly be the kind of thing you often see between former spouses, but it definitely seems like post-divorce life is working out great for both of them.
In Barrymore's Instagram post, she and Kopelman can be seen smiling on a couch on Mother's Day, looking super happy together despite the fact that Barrymore actually filed for divorce almost a year ago, after four years of marriage. Earlier this year, Barrymore told talk show host Ellen DeGeneres that the split was her "worst nightmare," according to The Huffington Post, and that she feared it inevitably meant the end of the dream she'd had to raise the couple's two daughters in an "ultratraditional way" that was different from her own upbringing. These days, though, it seems pretty clear that they've more than figured out a way to be happy co-parents: Barrymore captioned her Mother's Day pic by writing,
Mother's Day. Father is awesome and we have happy unorthodox union. And let's honor the [dads] today too. #HAPPYMOTHERSDAY
Editor's note: The Instagram post has since been deleted.
Barrymore and Kopelman aren't the only ones who've figured out how to remain tight following the split, though. During their marriage, Barrymore also became very close to Kopelman's family — particularly his mother, Coco Kopelman, and sister, Jill Kargman — and though it might seem inevitable that that dynamic would change after a divorce, too, their bond actually seems to remain as strong as ever. In a separate Mother's Day Instagram post, Barrymore called the two women "the moms and loves of [her] life," and shared a photo snapped by her ex-husband of the three of them laughing together over drinks.
As lucky as the couple may be though to be able to maintain such a healthy post-split family dynamic, Barrymore explained that it didn't exactly happen by accident. According to Us Weekly, she told DeGeneres that, despite her own sadness over the split, she realized that what her kids needed was for her to model the same kind of love and respect as a co-parent with Kopelman that she'd intended to do as a wife:
You can talk until you're blue in the face, but kids watch what you do every single day of your life. All day long. And that behavior and that example and that love and community and honesty is just, I think, what's making everything feel safe for my kids. And that's really the intention I had as a parent.
Editor's note: The Instagram post has since been deleted.
And there's no question that it seems to have paid off: in October, Barrymore told Entertainment Tonight that she and her kids still spend plenty of time together with her ex-husband and his family, and that she felt "honored" to have the "love and acceptance" she still receives from Kopelman's mom. Ultimately, Barrymore said that she's learned that "[there are] many different definitions [of family] in this day and age," and that even though she hadn't expected to split from her children's father, she told DeGeneres that "you just figure it out and figure it out with grace."
Kopelman wasn't the only thing on Barrymore's mind on Mother's Day though, of course. On Saturday, Barrymore shared a beautiful photo of herself with her daughter, Olive, which she said had been taken a few years ago during a photo shoot, and the following day, she shared a pic of her younger daughter, Frankie, along with the caption, "My girl Frankie. Such a proud mom."
Editor's note: The Instagram posts have since been deleted.
Of course, not all divorced couples are able to have the kind of happy relationship that Barrymore and Kopelman seem to enjoy, and it's probably not that common to still remain so involved with your in-laws either. But it sounds like the former spouses have worked really hard to ensure that they continue to make the best of their situation, and judging by the photos, they definitely seem to have done that.